One of the best things about self-publishing is how it empowers diverse authors, who might otherwise need to get "permission" from more short-sighted traditional publishers, to get their works published and read. And with many less expensive options (ebooks, POD) replacing high-price vanity presses, another barrier has been lifted, making self-publishing a more accessible and less costly option.
While the traditional publishing industry still devotes most of its attention to white, male authors, the indie scene has an abundance of diversity and cultures. If you're resolving to add a little diversity to your library, start with this handful of authors!
Courage to Persevere by Tami Gilbert
Tami Gilbert was born in Ijofin, Nigeria, and her memoir recounts her experience in making a life in the United States.
As the title suggests, her story is an inspiring one—and quintessentially American in its exploration of otherness and assimilation.
It's an eye-opening read for those of us who take too much for granted, and an instructive book for readers who find themselves on a similar life path to Gilbert's.
Amina: The Silent One by Fiza Pathan
Pathan's gripping novel also a story of struggle, albeit a fictional one. Taking place in an Indian slum, Amina: The Silent One delves deep into distressing but very real injustices women face in the country, like human trafficking and abuse.
Pathan paints a visceral image of slum life, and her likeable protagonist Amina helps to draw a reader in who might otherwise be ignorant to such an experience. The beautiful novel is an important read thanks to the issues it illustrates that so many women face not just in India, but in other parts of the world as well.
Little American Man by Lior Lampert
We've got another memoir for you—written by a high school student!
Little American Man chronicles Lampert's emigration to the United States from Israel, detailing the awkwardness and difficulties many immigrants face in a new country. It's refreshing for an American reader to see the country through an immigrant's eyes, and despite his age, Lampert is able to impart wisdom from his experience of living between two cultures; he portrays how an initial struggle or awkwardness can be empowering for oneself and those around him or her.
An Hour Behind by Dina Hrecak
Here we have a work of historical paranormal fiction, a book steeped in the diverse ancestry of its author.
Dina Hrecak, born in Serbia, is a mix of European nationalities that color the fictions and histories she weaves into her book. Described as "a Serbian family novel," An Hour Behind details a family's complex history when young Angelica begins dreaming past events as witnessed by her great-grandfather. Past and present combine quite literally as Hrecak illustrates the insights we may gain about ourselves by looking to generations behind.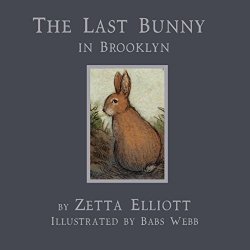 The Last Bunny in Brooklyn by Zetta Elliott
Elliott has a lot of books for both children, teens and adults alike, but we're including this book for its social message, as well as the fact that children can benefit from a more diverse set of authors as well.
This story deals with a bunny living at the Brooklyn Botanic Garden who searches for his missing rabbit friends. As an allegory for social displacement, Elliott's book is important for children and adults alike who live in gentrifying urban neighborhoods—and it's so beautifully illustrated. The story provides comfort to children whose friends have been displaced, as well as good food for thought to adults.
Drunk in Love IV by Tiece & Cole Hart
Drunk In Love 4 begins with Olivia and Zay happily planning  the nuptials of their upcoming wedding. Although they are now in a good space, others are finding it hard to cope with the unexpected events of life's lessons.
Angel and Mark have suffered the loss of their baby girl. Mark just wants to make it right. However, Angel is on another mission. In the wake of her demise may come a blessing in disguise. Things are finally looking up for this couple or, so it may seem. Everyone pays a price when living their dreams, but will Angel's cost her everything, including her life?
Cole Hart is an African-American bestselling author and and a CEO of Write House publishing, which publishes urban fiction (aka "street lit") by over two dozen, mostly female, African-American authors.