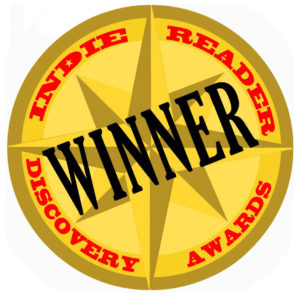 Elevation was the winner in the xx category of the 2019 IndieReader Discovery Awards, where undiscovered talent meets people with the power to make a difference.
Following find an interview with author Samantha Connor.
What is the name of the book and when was it published? 
Elevation. It was published in July 2018.
What's the book's first line?
"Golden beet and arugula niçoise salad topped with sashimi tuna."
What's the book about? Give us the "pitch".  
For popular food-blogger Kendall Gibbons, September 12th should be the single most important day of her career. She's been given the opportunity to collaborate with one of the most important influencers in her industry, which will put her name on the forefront of millions of feeds. But this amazing opportunity is interrupted by a random twist of time and space. As Kendall exits the fifteenth-floor elevator that should lead her to the meeting, she finds herself back in her fifteenth year of life.
Desperate to return to her twenty-eight-year-old life, the now transformed fifteen-year-old Kendall is forced to elicit help from her seventeen-year-old brother, Mike, and his best friend, Gavin, being careful not to make any changes that might put her future success in jeopardy. Through a series of cosmic missteps, Kendall stumbles back and forth in time within her own life. She is forced to re-live past experiences, and in doing so, re-discovers herself.
Elevation is a non-linear, coming-of-age love story about losing and finding yourself, the nature of time and the importance of human connection.
What inspired you to write the book? A particular person? An event? 
I've always loved transformation stories and have been fascinated by time travel.
What's the most distinctive thing about the main character? Who-real or fictional-would you say the character reminds you of? 
The most distinctive thing about the main character is her desire to show only a certain "version" of herself to the world. Her self-denial reminds me of Alice from Liane Moriarty's What Alice Forgot.
What's the main reason someone should really read this book? 
The story takes the reader on a "what-if?" journey, reminding them that life is just an accumulation of small decisions and that it's most rewarding when being true to one's authentic self. It also has fun references to 90s and 2000s pop culture that keep it fresh and light.
If they made your book into a movie, who would you like to see play the main character(s)?
Lily Collins (as Kendall) and Noah Centineo (as Gavin).
When did you first decide to become an author?
Probably as a child, but I didn't have the patience or determination to actually finish anything that I started. I would start writing and lose interest or tell myself I was no good, and put my writing aside. I figured I would eventually return to it, and finally decided to just finish something when I wrote this manuscript in 2014.
Is this the first you've written?
Yes.
What do you do for work when you're not writing? 
I'm a nurse working in the pharmaceutical industry.
How much time do you generally spend on your writing?
Several hours a week- wish it were more!
What's the best and the hardest part of being an indie?   
Overall I think it's been just a great learning experience for me trying to get this book exposure. I had a crash-course in web design, Instagram, and self-promotion that I wouldn't have challenged myself with otherwise. The hardest part is the same too: getting exposure and being the one solely responsible for it. And having people take your work seriously.
What's a great piece of advice that you can share with fellow indie authors?
Have Beta readers that you trust and listen to their feedback. Don't be afraid to put yourself out there, but you also have to be willing to listen to the constructive feedback.
Would you go traditional if a publisher came calling?  If so, why? 
Yes, I think just given my current life, as a mom of a young child and also working full time, it would be really nice to have professional support in marketing my work and guidance in editing it.
Is there something in particular that motivates you? 
Honestly, it sounds silly probably, but just the creative process itself motivates me. I've never felt more alive then when I am fully invested in a story and in a character. I would love to be able to do this type of work full time and connect with readers through storytelling.
Which writer, living or dead, do you most admire?
Cameron Crowe.
Which book do you wish you could have written?
To Kill a Mockingbird.