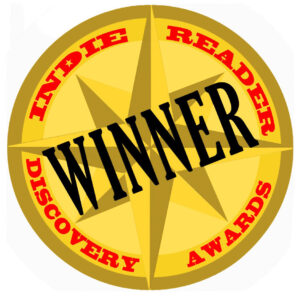 Alpha Max: An Existential Romp through an Absurd Multiverse was the winner of the BEST COVER DESIGN in the Fiction category of the 2022 IndieReader Discovery Awards, where undiscovered talent meets people with the power to make a difference.
Following find an interview with author Mark A. Rayner.
What is the name of the book and when was it published? 
Alpha Max: An Existential Romp through an Absurd Multiverse (November, 2021)
What's the book's first line?
"There was a fat man wearing a silver lamé unitard standing in his living room."
What's the book about? Give us the "pitch". 
Maximilian Tundra is about to have an existential crisis of cosmic proportions.
When a physical duplicate of him appears in his living room, wearing a tight-fitting silver lamé unitard and speaking with an English accent, Max knows something bad is about to happen. Bad doesn't cover it. Max discovers he's the only human being who can prevent the end of the world, and not just on his planet! In the multiverse, infinite Earths will be destroyed.
Personally, Max thinks the multiverse is in big trouble, because he can't even keep his toenails clipped on the regular, let alone stop the apocalypse. His only "allies" are a race of manic pixie aliens and dozens of other versions of himself; and let's face it, both groups are annoying as heck!
What inspired you to write the book? A particular person? An event?
Dr. Maximilian Tundra is a recurring character in three of my other novels, and I thought it would be fun to explain why he's always slightly different, from book to book. The reason? They're all different Tundras from different universes.
What's the most distinctive thing about the main character? Who-real or fictional-would you say the character reminds you of?
The crazy red hair and beard – they are featured prominently on the cover. Max also tends to be philosophical, funny and a bit out-of-the-box in most of his iterations, too.
What's the main reason someone should really read this book?
If you want to read a funny and deep book about the philosophical ramifications of multiverse theory, this is the book to read. Plus, it's a heartfelt and hilarious character study; how do our choices and actions, as well as our circumstances, determine who we are as individuals? The absurdist jokes and scenes are a bonus.
Did you design the cover yourself?  If not, who did and how did you find them (they did another cover you admired, they were recommended, etc)?
No, I am not nearly talented enough to do cover design at this level! I believe it takes a special set of skills to design a cover, so I advocate hiring experts! I found Xavier Comas, the brilliant director of Coverkitchen designs, though Reedsy.com.
What, if any, elements of the book did you want to convey in the cover design?
I wanted to convey the existential, absurdist dimension of the book, as well as the idea of the multiverse. It was critical to me that this book was at a glance humorous and science fiction from its design,; I was sure that an illustration on a solid background color would work best. After that, it was up to Xavier's touch. The split head, with galaxies inside, the trademark Tundra hair and beard – plus the handwritten font – were all perfect!
If they made your book into a movie, who would you like to see play the main character(s)?
I'd love to see Seth Rogan tackle Maximilian Tundra, though he might not want to play so many different versions of the same character. (It would put Eddie Murphy in  The Nutty Professor to shame.) The Norwegian actor, Kristofer Hivju, famous for his role on Game of Thrones, has the right beard for many iterations of Tundra too.