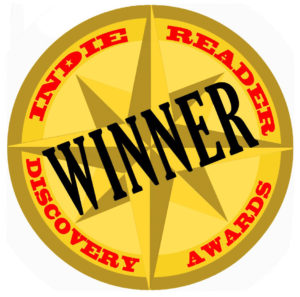 The Wolf and the Rain was the winner in the Young Adult category of the 2019 IndieReader Discovery Awards, where undiscovered talent meets people with the power to make a difference.
Following find an interview with author Tanya Lee.
What is the name of the book and when was it published?
The Wolf and the Rain, published September 28, 2018
What's the book's first line? 
Sam woke into nothingness. Panic washed the remnants of the dream away as she reached outward, searching for something tangible, something real—found blankets, the cold hard metal of her baton, the shirt she used as a pillow.
What's the book about? Give us the "pitch". 
Global warming has divided the continent. Samarra, a soldier from the barren, autocratic South, has fled to the Barrow, a northern city where the only things growing faster than the city's piles of garbage are extremist cults and violent gangs. Her sole objective is survival: to stay hidden and stay safe.
With jobs in short supply, Samarra counts herself lucky to find work with the Vauns, one of the Barrow's most powerful and dangerous families. As she learns to navigate the beauty, the horror, and the magic of the lawless city, she finds herself living in the shadow of a missing woman—the beautiful and mysterious Raina, who worked for the Vauns before her. When the trail, long thought cold, heats up, Samarra must decide whether her newly gained chance at freedom is worth sacrificing for a ghost.
What inspired you to write the book? A particular person? An event? 
I was in Toronto, walking home to my tiny rented apartment. The streets were dark and flooded and I was alone, new to the city. I pulled my hood over my face and pushed into the wind, my mind drifting with longing to the life I'd left just months ago. Traces of the magic city pulled at me—Nepali colours and chaos and monsoon rains. I thought of old temples and new condominiums, equally vulnerable to the looming threat of climate change. I thought of earthquakes and droughts, storms and the rising sea levels. Present and future touched, borders blurred, and the inevitable question: What if?
What's the main reason someone should really read this book? 
Dystopian novels play on our fears. What could happen, and how we might respond, how we might survive. Unfortunately, post-climate change dystopian fiction is becoming more and more relevant. Big themes aside, if you like strong but awkward female protagonists, plot twists, societies that are over trying to control everyone's sexual orientation, or fat ginger cats, you'll like The Wolf and the Rain.  It has the grimy allure of Jessica Jones, with the humour of Firefly or Buffy.
What's the most distinctive thing about the main character?  Who-real or fictional-would you say the character reminds you of? 
Samarra was raised in a tightly controlled military society. Not one that she hated, but one that she admired and believed in. Not only is she faced with learning to adapt to life in the lawless, anarchic North, she is also dealing with the re-creation of self. She can't be who she was. When you strip away a lifetime of propaganda, what remains? How much space is left for something new? Samarra has always been strong, disciplined, resourceful and smart. A guilty conscience and the constant vigilance required to guard the secrecy of her origins have made her guarded. Part of her wants to hide away—to be alone, to be safe. The other part of her, well…the overachiever within just can't seem to keep her nose out of a mystery.
If they made your book into a movie, who would you like to see play the main character(s)?
Ideally, me. Although the idea came to be years ago, I began writing in earnest in the fall of 2016 when I was pregnant with my first child. Acting opportunities for pregnant women are woefully scarce. To keep from going crazy(er) with repressed creativity, I decided to focus on writing, an itch I had been neglecting for years. Of course, it only made sense to slip in a few characters that I could potentially play…
What do you do for work when you're not writing?
I work in international development and human rights, typically on maternal and child health projects, although I have also worked with organizations involved in safe migration/counter human-trafficking as well. This means that I have gotten the chance to visit some pretty amazing places—Kathmandu, Kolkata, Mexican border towns, and various countries in Africa. I also sometimes act in indie movies.
How much time do you generally spend on your writing?
Working full time and having a toddler at home (and a baby on the way), I try for just an hour a night. More would be better, but I find I can do a lot with even that one hour. The benefit of writing daily for me is that I don't have to re-read anything. I try not to edit or look back over my work until the first draft is completely finished. Create first, fix later.
What's a great piece of advice that you can share with fellow indie authors?
I feel very fortunate to be delving into the indie publishing world now, when there are so many helpful resources available. Not only have other indie authors pioneered the way forward, but several of them have been generous enough to share their experiences, often for free or a minimal fee.  My advice for any other new indie authors is to take advantage of the wealth of information available.  Read Joanna Penn's blog, watch the Reedsy webinars, check out what David Gaughran has to say.
Also, shoot for the stars when it comes to editors.  I decided early on to give myself as many of the advantages that traditionally published authors have as I could—including the best editor I could find. Somehow, I managed to score Melissa Frain, Senior Editor for Tor Books (via Reedsy). She is absolutely brilliant, and was such a delight to work with.
Would you go traditional if a publisher came calling?  If so, why?  
I would definitely consider it—it really just comes down to vision and resources, particularly in terms of getting into bookstores. I work in data—I LIKE data. So, in terms of online marketing, I'm pretty happy with what I can do (especially thanks to cool toys like Dave Chesson's KDP Rocket). What I'm struggling with is the crippling cost of returns for indie authors wanting to break into the bricks-and-mortar market.
Is there something in particular that motivates you?
I am a little on the tense side. Okay fine—I'm a half pint of stress and anxiety with an overpowering aftertaste of excitability. Hopefully my family and friends find this endearing. It's definitely exhausting.  When I'm writing (or acting), I feel like I can breathe. It's calming. Also, stories, unlike people, live forever. So, there's that.