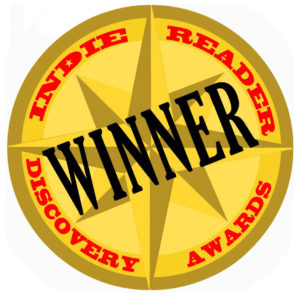 The Brass Compass was the winner in the Historical Fiction category of the 2018 IndieReader Discovery Awards, where undiscovered talent meets people with the power to make a difference.
Following find an interview with author Ellen Butler.
What is the name of the book and when was it published?
The Brass Compass was published last year in May 2017.
What's the book's first line?  
Unbeknownst to me, my training started as a child, long before the Nazis came to power, before the war, and before my stay at the prestigious Swiss finishing school, Château Mont-Choisi, in the idyllic town of Lausanne.
What's the book about? Give us the "pitch".  
A beautiful American spy flees into the night. On her own, she must live by her wits to evade capture and make it to the safety of the Allied forces.
The Brass Compass, a book set during WWII, places one female spy in the spotlight where fiction reflects fact. The novel reveals the extreme dangers agents faced when Lily St. James parachutes behind enemy lines, destroys rail lines, and infiltrates a high-ranking Nazi household. The Brass Compass is the latest story to celebrate the uncompromising intelligence and composure displayed by real OSS operatives.
What inspired you to write the book? A particular person? An event? 
My grandfather was a cryptographer during WWII, and my interest in the war was sparked by his role. A particular scene in the book came to me in a dream, and, from there, my research spun into The Brass Compass. 
What's the most distinctive thing about the main character? Who-real or fictional-would you say the character reminds you of? 
I believe the most distinctive trait I gave my character is her perseverance. Lily Saint James is a fictional character inspired by the actions of real female spies from WWII. An amalgamation of three women in particular formed the basis of her background and traits, they include Virginia Hall, Violette Szabo and  Noor Inayat Khan. In the Afterward of The Brass Compass, I provide more details about these impressively brave women.
What's the main reason someone should really read this book?
According to the Midwest Book Review,  the story is "A deftly crafted and impressively entertaining novel of suspense and harrowing endangerment, The Brass Compass is a thoroughly riveting read from beginning to end."
If they made your book into a movie, who would you like to see play the main character(s)?
I believe Jennifer Lawrence has the acting chops to give Lily St. James the chutzpah she deserves.  Aaron Taylor-Johnson would make a good Charlie. But, I think there is a good possibility there is an unknown actor or actress out there who could play these roles equally well.
When did you first decide to become an author?
I began writing my first book in 2011, and that novel was published in 2014.
Is this the first you've written?
No, The Brass Compass was my sixth novel.
What's the best and the hardest part of being an indie?  
The best part of being and indie is having control of every aspect of the process.
The hardest part is having control of every aspect of the process. Since I'm in charge of everything, that means a lot of  stress because it's all in my hands. Luckily, I've surrounded myself with an excellent support crew including editors, beta readers and cover artists.
What's a great piece of advice that you can share with fellow indie authors?
Find yourself a great editor, and network with other authors. Being an indie can become very isolating. Make the effort to meet other authors at conferences, workshops, and by joining support groups on Facebook or other social media. Often times, other authors have kept me sane at a crossroads in my career.
Would you go traditional if a publisher came calling?  If so, why? 
As I mentioned, I'm a hybrid author. I began with traditional publishers and there is something nice about having all of the work off your shoulders. Being traditionally published gave me a solid base of knowledge for what was needed to produce my own novel. Going indie, allowed me to get a book out much faster, which was a big consideration with The Brass Compass because many of the folks I interviewed are in their 90s, and I was afraid if I went traditional they might not be around to see the final product.
Is there something in particular that motivates you?
I enjoy writing tall tales to amuse my readers. And so far, the stories keep coming. I do fear the day my imagination dries up. Also, the money helps pay the bills.
Which writer, living or dead, do you most admire?
JK Rowling. That woman is brilliantly creative.
Which book do you wish you could have written?
The Harry Potter Series! What woman doesn't wish we could just flick a wand to wash the dishes and do the laundry. How great would that be?
https://indiereader.com/wp-content/uploads/2018/05/THE-BRASS.jpg
500
333
IR Staff
https://indiereader.com/wp-content/uploads/2016/12/ir-logo-2017.png
IR Staff
2018-06-13 09:36:08
2018-06-13 09:36:08
Ellen Butler on her IRDA Winning Book "The Brass Compass"