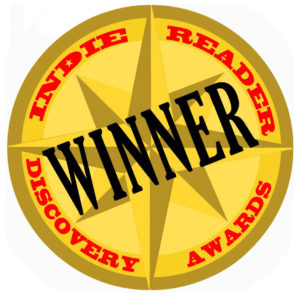 Federal Prison Handbook came in third place in the non-fiction category of the 2017 IndieReader Discovery Awards, where undiscovered talent meets people with the power to make a difference.
Following find an interview with author Christopher Zoukis.
What is the name of the book and when was it published?
Federal Prison Handbook: The Definitive Guide to Surviving the Federal Bureau of Prisons was published by Middle Street Publishing in 2017.
What's the book's first line?
"Incarceration is a growing trend in American society."
What's the book about? Give us the "pitch."
The Federal Prison Handbook is the leading Federal Bureau of Prisons survival guide and policy analysis text. Simply put, if you or a loved one are heading to federal prison (or are already incarcerated), you need this book. It will keep you safe, help make your time as productive as possible, and educate you about the rules and regulations that govern life in federal prison. It will also provide you with tips and expert guidance to ensure that you come out as unscathed as possible.
What inspired you to write the book? A particular person? An event?
A little over a decade ago I found myself sitting in a county jail facing federal charges. At the time I was a senior in high school. I was scared, desperate to know what was to come, and didn't have anyone to turn to. Over the twelve years that followed, I not only learned about life in federal prison, I found a way to thrive while incarcerated. From the confines of a federal prison I grew into a man. During this time I earned my bachelor's degree in business administration and legal studies, started writing for outlets such as The Huffington Post, New York Daily News, and Prison Legal News, founded PrisonerResource.com, and figured out life behind bars.
I wrote the book in order to provide the highest quality resource that I wish I had to all new and existing federal prisoners. It is my way to help others who have nowhere else to turn.
What's the main reason someone should read this book?
If you or a loved one are headed to prison (or already there), you should read this book to gain an informational foundation of what life will be like in the Federal Bureau of Prisons. Not only will you learn about greeting cellmates for the first time, how bathrooms and showers work, and how to communicate with your loved ones, you will also learn the policies underlying each of these areas. In short, you will learn what to expect, how to handle difficult situations, and where to turn if problems present themselves.
When did you first decide to become an author?
I started writing seriously perhaps eight or so years ago. This was after I came to prison. While I did feel inclined to write before prison, it wasn't until I came to prison that I put in the effort to refine my craft. For prisoners, the written word is powerful. It is one of the only ways that we can be heard. Once I realized this, I put a lot of time and effort to making my voice heard.
Is this the first book that you've written?
No. My two previous books are Prison Education Guide (Prison Legal News Publishing, 2016) and College for Convicts: The Case for Higher Education in American Prisons (McFarland & Company, 2014). Both were traditionally published.
What do you do for work when you're not writing?
I'm both a graduate student at Adams State University and a practicing prison journalist. So, when I'm not writing, I'm reading textbook case studies and writing responses. I do a lot of writing these days.
How much time do you generally spend on your writing?
While I spend an inordinate amount of time writing each day (for the media outlets and for school), the amount of time spent on a particular piece of writing depends on what it is. These days I tend to spend a few hours a day working on school work and another few hours a day working on either articles or book projects in development. Lately I've been spending a lot of time working on my new website, PrisonerResource.com. This site is designed to be a companion to the book. It answers many questions that prisoners and their families have about life in the Federal Bureau of Prisons.
What's the best and the hardest part of being an indie?
The hardest part is certainly going it alone. Decisions are harder to make when they are final ones. When the buck stops with you, as the indie author, all of the decisions need to be the right ones since there is no one else there to clean up after you. This can add a lot of pressure.
The best part is the control. As an indie author you are the boss. You set the price of your book, you choose how many review copies to send out, and you reap all of the rewards. While this is a blessing, it is also a lot of responsibility. Frankly, I think that I prefer this way of book publishing.
Would you go traditional if a publisher came calling? If so, why?
It depends on the publisher. I have only been published traditionally before my current project: once by McFarland & Company, a very large non-fiction publisher, and once by Prison Legal News Publishing, a smaller, specialized publisher. Both had their plusses and minuses. I would consider publishing a book with either one of them again.
As for my Federal Prison Handbook, I would have to really like the deal in order to sign a traditional publishing contract for it. The book is selling well, receiving great reviews, and is taking on a life of its own. I'm enjoying the process very much.
Is there something in particular that motivates you?
As a prisoner, the written word is so powerful. Virtually no one cares about prisoners. The guards hate us, the media hates us, and politicians hate us. As such, no one really cares enough to pay attention to what goes on in prison. It's unfortunate. But, as someone who has made a writing career from behind bars, I feel a duty to shine a light into the depths of America's prisons. Through my writings I honestly believe that I can make a difference. This is what motivates me to push forward. I want to give a voice to the voiceless.
Which book do you wish you could have written?
Hands down Caught by Marie Gottschalk. That is one heck of a book. Another is Locked In: The True Causes of Mass Incarceration and How to Achieve Real Reform by John Pfaff.