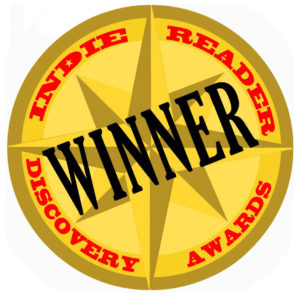 The Troll Cookbook came in first in the non-fiction category of the 2017 IndieReader Discovery Awards, where undiscovered talent meets people with the power to make a difference.
Following find an interview with authors Clint Marsh + Karima Cammell.
What is the name of the book and when was it published?
The Troll Cookbook: A Taste of Something Different. Published February 14, 2016
What's the book's first line?
"There is magic in fire."
What's the book about? Give us the "pitch".
Don't feed the trolls—let the trolls feed you! Trolls are folkloric creatures found in many lands, and in these pages they offer us enchanting and personal ways to savor good food every day. Far from mere fantasy, the world of the trolls is really just a few steps from our own. It's a place where ancient nourishing practices live on, and where time-honored simplicity makes cooking understandable, delicious, and fun.
What inspired you to write the book? A particular person? An event?
The story of food is the story of human civilization. Modern life doesn't require people to pay much attention to food, though. We didn't want the story to continue like that! What makes a good meal? Where do ingredients come from? What's special about food that's local, organic, or seasonal? The Troll Cookbook addresses these very human questions through the eyes of the parallel culture of the trolls. We wrote The Troll Cookbook for our families and for anyone who wants to establish a stronger connection between their lives and the food they eat. It's a whimsical book, but it's also very practical and adaptable for people everywhere.
What's the most distinctive thing about the main character? Who-real or fictional-would you say the character reminds you of?
Happily, The Troll Cookbook is nonfiction! We do mention a few real-world characters in the book, though. Johnny Appleseed gets a call-out in our section on apples. We're not sure whether he met any trolls on his travels, but they would have liked his bare feet, rough clothing, simple humility, and can-do attitude.
What's the main reason someone should really read this book?
Cooking is an example of everyday magic, the wondrous transformation of base materials into something delicious. If someone wants more of that magic, they should read The Troll Cookbook!
If they made your book into a movie, who would you like to see play the main character(s)?
Karima says: The Troll Cookbook is for everyone, but for the big screen the look and the spirit of the book are most perfectly embodied by Russell Crowe.
When did you first decide to become an author?
Karima says: I don't remember a time when I didn't identify as a storyteller and I've always known that I wanted to make books. My first rejection letter came from Farrar Straus and Giroux when I was eight years old. I had submitted cover artwork for a book about Freud.  I have a vivid memory from age nine of standing on the balcony at the Library of Congress looking over the stacks and knowing that one day I would be able to add my voice to the conversation.
Clint says: I first knew that I wanted to write books when I was a child. Fiction was my portal to other worlds, and nonfiction taught me how to make stuff. The Troll Cookbook reflects many of the same things I loved when I was first learning to read, including illustration, magic, and hands-on activities.
Is this the first you've written?
Karima says: This is my fifth book as an author, and my seventh as illustrator. Collaborating on the text was a new experience. Discovering the world of the trolls has been fascinating and encouraging. We didn't realize just how rich and whole the concept of troll cooking was when we started. Even now it keeps unfolding.
Clint says: I've been writing and publishing for a few decades now. I started as a journalist and slowly transitioned from writing about facts to the more satisfactory work of writing about truths.
What do you do for work when you're not writing?
Karima says: I run a wonder shop in Berkeley called Castle in the Air, a studio for the imagination. It is a place dedicated to honoring the internal life of artists, writers, and dreamers. In addition to the beautiful retail experience we offer classes six days a week in our upstairs studio space.
Clint says: Karima and I got to know each other through Castle in the Air. I joined the staff there many years ago to help with promotion and to start the in-house publishing imprint, Dromedary Press, which is how we published The Troll Cookbook. Beyond this work, I produce books with a number of other publishers as well as on my own.
How much time do you generally spend on your writing?
Karima says: Studio time is an important part of my day. Several nights a week I sit down to paint or work on other parts of a story, such as writing or creating props to photograph or use as illustration reference.
Clint says: I work on it some every day. My best writing tends to happen during my early morning writing sessions, but new ideas come to me at all hours, and it's foolish to ignore the muse!
What's the best and the hardest part of being an indie?
Karima says: The best part is being able to produce the books we've envisioned. It can take a long time to bring our vision to the page in words and pictures, but it's worth the time and effort.
Clint says: I'll echo that. I really enjoy having a hand in so many aspects of a book—writing, art, design, production, and getting it into readers' hands. I would have to say that last part is the hardest, but we work on it every day and when the connection is made it's a personal one.
Would you go traditional if a publisher came calling? If so, why?
Karima says: Under the right circumstances, sure. I've turned down offers in the past, because I wasn't convinced that their wants and wishes matched mine. The Troll Cookbook is close to selling through its hardcover run, so perhaps someone wants to publish the paperback?
Clint says: I publish on my own as well as through traditional publishers. I have to say that the representation provided by bigger houses is invaluable—having an entire staff pulling for a book, even if it's only for a season or a year. Even then, though, it takes a lot of hustle to keep a book selling.
Is there something in particular that motivates you?
Karima says: I am consistently thrilled by the feeling that comes from having created an entire world that I can share with readers. I think it is that connection that drives me.
Clint says: I've always had an inner drive to write and publish. It's been wonderful to see readers respond. I do like the cycle of creating and getting feedback from readers, which sometimes feeds my next work.
Which writer, living or dead, do you most admire?
Clint says: A tough one! I'm not going to pin myself down with this one. The traits I most admire in an author are steady output, a consistent voice, and heart.
Karima says: The complete worlds that William Blake created are a tremendous inspiration to me. I am also a great admirer of Edward Lear.
Which book do you wish you could have written?
Clint says: Only the ones that I've been kicking around in my head for years. Time will tell.
Karima says: I have to agree with Clint. I've definitely got a few more books inside me that are restlessly waiting to be written.