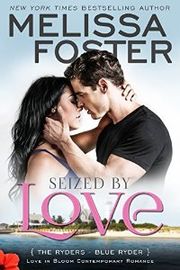 Melissa Foster is a New York Times & USA Today bestselling and award-winning author (find her latest title, Seized by Love, on this week's "List Where Indie's Count"). She writes contemporary romance, new adult, contemporary women's fiction, suspense, and historical fiction with emotionally compelling characters that stay with you long after you turn the last page. Her books have been recommended by USA Today's book blog, Hagerstown Magazine, The Patriot, and several other print venues.
Melissa is the founder of the  World Literary Café and Fostering Success. When she's not writing, she helps authors navigate the publishing industry through her author training programs on  Fostering Success. Melissa has been published in Calgary's Child Magazine, the Huffington Post, and Women Business Owners magazine. Melissa hosts an Aspiring Authors contest for children and has painted and donated several murals to The Hospital for Sick Children in Washington, DC. Melissa lives in Maryland with her family.
"Family knows no boundaries,"
~Hal Braden.
Maya Fleischmann/IndieReader (IR) – You have written some stand-alone titles but many of your bestsellers are part of a large series. Where did your inspiration come to start writing a big family series
Melissa Foster (MF) – A close friend of mine dared me to write something that didn't tear her heart out and wasn't dark. I took the dare and never looked back.
IR – What do you believe makes your books so appealing to your followers?
MF – My stories are real above all else. Each story is very different, from the characters to the plots and subplots, and they deal with real life issues. My books are always emotional, dealing with heavier issues than some romance novels, and although the sex scenes are super hot and passionate, they're never written for shock value. All that said, I think the most compelling aspect of my writing is the big families. Readers experience more than the hero/heroine love story. They get to know the family members and learn about why our heroes/heroines are the people they've become—and watch them change within the family dynamics as well as their love relationships.
IR – Do you have a favorite character or series?
MF – That's like asking me to pick a favorite child. I love them all for different reasons.
IR – You started out attempting to publish traditionally, but ended up publishing independently. Now you have stuck to indie publishing. What are your top reasons for the decision?
MF – I love the control I have as a publisher. Publishing on my own schedule, control of covers, content, pricing, is all part of running a successful publishing business. I enjoy all of those aspects. But I am not against traditional publishing. I just haven't found a traditional publisher who can offer me anything more than I'm doing on my own.
IR – What do you feel would be the hardest aspects about going from indie to traditional and vice versa?
MF – I think for many authors who have never worked with a developmental editor that would be a difficult transition in moving to traditional publishing. Losing control of content, covers, pricing, publishing schedules—all of those aspects would be quite difficult to give up. As far as going from traditional to indie, there's a world of difference. Most authors that I know who make the transition from traditional publishing to indie are overwhelmed with the business aspects and associated costs of publishing a book. A fantastic writer might not be a skilled marketer.
IR – While you are a big proponent of self-publishing, you stated in one of your interviews that "self publishing is not for the feint of heart." What do you think are the most difficult aspects of self-publishing?
MF – For me, the most difficult part of self-publishing is finding balance between work and home. Breaking out as an indie is a difficult thing to do. I know for others, writing their hearts out, spending thousands of dollars on editors, cover artists, marketing, etc., and then receiving poor reviews, or not selling many books, can be disheartening.
IR – What do you think is the number one misconception (if any) that readers have about independently published books versus traditionally published books?
MF – I don't think readers know or care who publishes a book. They want, and they deserve, well written, well edited books. Period.
IR – What positive (or negative) changes have you seen in the indie and traditionally publishing world in just the last three years?
MF – Traditional publishers are working more strategically with pricing and promotions, which is critical if they're going to compete with indies.
IR – What do you prefer as your reading format – paper or ebook?
MF – I'm an equal-opportunity book whore. I do paperbacks as often as ebooks.
IR – Can you give me a favorite quote from one of your characters? Who is it and what is the situation?
MF – "Family knows no boundaries," Hal Braden. Hal Braden is the patriarch of the Braden family. He lost his wife when their six children were young, and he raised them to be loving, loyal, and fiercely protective. "Family knows no boundaries" has become the Braden family creed.