Michele Scott dreamed of being a writer since the age of nine, earning a degree in journalism from the University of Southern California before tackling fiction. Today she is the author of more than three dozen books–women's fiction, paranormal novels, mysteries, and thrillers. She has hit the bestseller's lists of The New York Times, USA Today, Wall Street Journal and Amazon Kindle.
A lifelong equestrian, she helps to run her family business manufacturing sports-medicine products for horses. She is a native of San Diego, California, and still lives there today with her family, which includes three kids, fourteen horses, four dogs, and a cat.
Loren Kleinman (LK): I read that you started writing at nine years old. Can you tell us that story?
Michele Scott (MS): I always loved to read. Both of my parents were readers and it just came very natural to me that reading was a part of our world. Through reading, I learned that I also really loved to create and write. I started writing stories at a young age, but the passion and knowledge that it was going to be a major part of my life was cemented for me when I was about nine. I wrote a short story on one of my dad's legal pads. It was a bit of a sad story but there was a message behind it around kindness. It had to do with two sisters. I still have a memory of the story. But the real memory is when my dad read the story. He finished it, looked at me and with tears in his eyes said, "You are a writer." My dad was my biggest fan until his passing two-years ago. He was also a huge mentor and supporter of my work. I owe much of his belief in me and my work to my dad.
LK: How have you grown as a writer throughout the years? What's been the biggest challenge?
MS: I think it's impossible not to grow as a writer throughout the years if you're dedicated and constantly write. I know I've grown. I'm always studying the craft and reading other authors. I think that life in general has helped me grow as a writer. I've learned to listen better, I've faced a lot of adversity in various areas of my life and used that to aid me in my growth. It's constant and I am grateful for it. The biggest challenge for me as a writer is time. I am the Vice-President of our family business, which manufactures sports medicine products for horses. I also have a family that includes kids and many animals. So, time is an issue for me. Fortunately, I write quickly, so I can get a lot written in two hours.
LK: Talk about getting into the indie scene. Have you always been indie? What made you take the leap and what's been your strategy for sticking to a writing schedule?
MS: I haven't always been an indie author. I was first published by Penguin in 2004 with the first book in the Wine Lover's Mysteries. I wrote nine books for Penguin. They dropped both of my mystery series in 2010. I was pretty devastated and wondered what I was going to do. Then, I started hearing whispers of this thing called "Indie Publishing." I thought that I'd give it a try. I had nothing to lose.
I had six backlisted books that had never sold because they didn't fit the "cozy" genre. I gave a pen name to my thrillers (A.K. Alexander) and I put them up on KDP. Not much happened for a year. I sold a few each month but nothing great. Then, one morning I was looking at the sales and saw that I had sold a few hundred in the U.K. of my thriller Daddy's Home. I had no clue about why or how. I couldn't believe it. By the end of the month that book was #1 in the Kindle Store in the U.K., with my book Mommy, May I? at #2! It was crazy good, and I was shocked.
Sales died down there after a couple of months, but then in February 2012, Daddy's Home took off in the states and landed in the #4 position in the Kindle Store for quite some time. Thomas & Mercer of Amazon publishing took notice and offered to purchase two backlist books from me, and gave me an advance for a third thriller. Skyscape also took notice and bought a three book YA series from me. However, most of my books remain indie and my next thriller will be an indie. I love the freedom of being an indie author.
As far as my strategy goes for a writing schedule, I try very hard to get at least an hour in the morning written at work before meetings start. I will also write during my lunch hour, and then again at home at night. I also schedule binge writing sessions. That may be a weekend, or if I can get a week off, I'll write 6,000-10,000 words a day when I do the "binging." I try and do that two to three times a year.
LK: Why write a mystery? Why write a thriller? What's in it for the reader? And how did you get started writing in this genre?
MS: Mysteries and thrillers are fun for me. They're like a puzzle that my brain has to figure out. Then, I put it out to the readers and challenge their brains with it. It's a challenge and the writer has to remember to give all of the clues to the reader. If the writer is good, she is able to "surprise" the reader without cheating her. The reader should be able to look back and say, "How did I not see that coming?"
I got started in the mystery and thriller genres because those are the genres I absolutely love to read. I've always read mysteries from Nancy Drew on up.
I think the reader gets to have some fun trying to solve the mystery, and also there is that heightened element of suspense. Some readers like to be scared a little—read something that is so out of their reality that it's tantalizing to them.
LK: Your latest release is co-written with Jen Greyson. I've noticed lots of indie authors co-writing their books lately, including Bella Andre and Melissa Foster. Can you talk about why you decided to co-write your latest release? What's your process been like so far?
MS: I also write a co-authored series with JR Rain, who really got me interested in the process. It's really fun to share viewpoints and develop characters with someone else. Sharing ideas is also fun, even when you don't always agree. I've enjoyed it a lot and because writing is so isolating, this process allows it to be less so.
The process with Jen has been that I work on the outlines and character development. She, then writes the first draft and sends me sections where I write in my input and additions, as well as make any changes that we both agree on. We have a really great partnership.
LK: Do you have any other plans to co-write another book? Why? Why not?

MS: Jen and I will do another book together in our series. JR and I are also doing a third book in our series together. I'm definitely open to doing more with co-authors. I think it's fun and I love the back and forth repartee.
LK: In The Evangeline Heart series the theme of safety and perpetuation of mankind is prevalent. How does the main character, a woman, attempt to save the world? Is it by chance the savior is a woman?
MS: Lina Heart does have quite a task ahead of her. The series is very fantastical and deals a lot with paranormal and the paranormal elements. She's a tough chick, and her attempts at saving the world do much more than just handling the human element, but are far more to do with handling the supernatural elements. There is a possibility that the savior is female in nature.
LK: How do you write about 'evil'? How do you portray evil in a text without telling?
MS: I write two kinds of evil. I write realistic thrillers based on human evil, and I do that by researching that type of evil. It's not easy but to portray it correctly on the page, it's necessary. I also write the supernatural type of evil, and that I write from trusting my gut as I write it out. It's all character development and creating three-dimensional characters. You can portray evil through dialog, through action and that action can be as simple as a look, or even a look away from something. Evil can be in your face on the page, or written between the lines so to speak. I combine both methods.
LK: Who's currently on your nightstand (book I mean)?
MS: Well…I read a lot of non-fiction, and I'm a horse person, so I am currently reading Equine Fitness. I'm also reading a craft book titled Write From the Middle, and I'm re-reading Patterson's Kiss the Girls. That book has so many of the thriller elements perfect for the genre that I'm actually doing a study of the book right now.
LK: I read you are passionate about riding. When did you start riding horses and how do you continue to make time for this during your writing schedule? How important is it for writers to maintain balance?
MS: I've had horses since I was six-years-old. They keep me grounded and balanced. Finding time to ride isn't easy these days but it's vital that I do so. My daughter is an avid competitor in the world of three-day eventing, so this is a huge part of our family's life. Not to mention, the business my parents started forty years ago is within the equine sports medicine industry.
Maintaining balance is vital for a writer. It's vital that we all have a balance. Life is too full and contains so many opportunities to really live it. Writers are always in our heads and we could live in our stories for hours on end, but the reality is we have to have down time. I believe it makes a writer a better writer.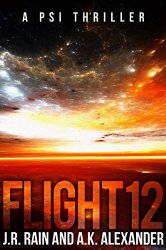 LK: What else are you working on right now? What can we expect from Michele Scott next year and the year after that?
MS: I am currently working on the third Holly Jennings' Thriller titled The Preference, which will be going up for pre-orders very soon. I am also working on a romance under my name titled Bleu (it does involve horses). I will be doing the third book in the PSI trilogy with JR Rain (Speak No Evil), and well as the third novella with Jen in The Evangeline Heart series titled The Lucifer Legion.
Readers keep asking me for another Evie Preston book, so it looks like that is on the table as well. I have another YA in my Vivienne Taylor series on the back burner, so it does appear I will be quite busy in 2015 and 2016. I do plan to publish all of these as indies. I truly love being an indie writer!