Spring is in the air and a girl's fancy turns to thoughts of…lust.  These half dozen hot men (and the stories that accompany them) are guaranteed to be just the thing to take the chill out of a cool April night.
Darkest Before Dawn by Amelia Hutchins
Zombies, the apocalypse, a modern-day Noah and a love triangle come together in this tale of love and Armageddon, which points out that just because the world ends – the world doesn't have to end.
In this novel, the main character's father is trying to keep her and her brother safe as the end of days near. Enter Jaeden and Lachlan – two boys no preppy manual could prepare a girl to handle.
He hasn't let running for his life waste away his muscles.

Sexual Heat: Wildfire
Henry by Andria Large
Claire Russell isn't exactly what Henry Beck had in mind when he was looking for a personal assistant. He wanted someone old with gray hair. But Claire is young, beautiful – and a single mom. As for Claire, she's found Henry to not only be gorgeous, but really good with her son. Attraction gets complicated when it's between a boss and his employee – will a freak accident be just the thing to bring them together?
We wonder if Henry flies his airplane shirtless. If he doesn't, he should.
Sexual Heat: Volcano
Rocky Retreat by Vivian Arend
A winter storm sets the stage for this love affair – between the brokenhearted souls Lee Coleman and Rachel Malone. He lost his woman to another man and threw himself into work on the family ranch. Her story is much the same, and she doesn't think a rebound fling is the answer. Lee wants Rachel to be his – forever. But she is having hard time believing that's possible.
We love a good tease – when a man gives us just a little, but holds back. In this case, he gives us abs.

Sexual Heat: Wildfire
Uncover Me by Chelle Bliss
Thomas Gallo is "spiraling down the rabbit hole." Is he a cop, a respected good guy? Or is he one of the Sun Devils MC, through and through? He no longer knows the answer. Roxanne has always been part of the MC, living a dangerous, tormented life. When these two lost souls collide, they have to fight for each other – and redemption.
Riding a motorcycle shirtless seems a bit dangerous. But maybe those buff muscles will protect him.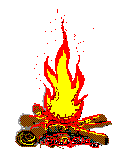 Sexual Heat: Bonfire
Incandscent by River Savage
Nothing prepared Phoenix 'Nix' Knight for Kadence.
Nix is the father to one of her students – crass, obnoxious and dangerous. But very sexy.
She determines not to give into him without a fight, but the woman she once was would've given in in a heartbeat. What ensues is a battle for the ages.
That tattoo is pretty fierce. The bicep it's planted on isn't so bad either.

Sexual Heat: Wildfire
Fierce by Nina Levine
Scott Cole is intense, loyal and fierce and will do anything to protect the Storm Motorcycle Club and his family.  He loves his women just as fiercely.
Harlow James has never met a biker – but that doesn't matter, she's sworn off men. They cheat and lie and steal – and Scott will be no different. She must not give in, but soon realizes he's worth the risk.
He looks pretty naked, but where's his handsome face?
Sexual Heat: Candle Flame
.