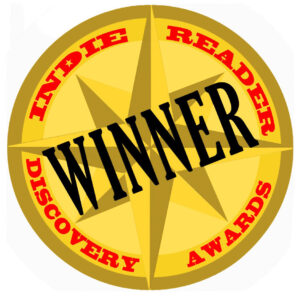 Playing Soldier was the winner in the Memoir category of the 2021 IndieReader Discovery Awards, where undiscovered talent meets people with the power to make a difference.
Following find an interview with author F. Scott Service.
What is the name of the book and when was it published?
First of all, thank you for choosing me as a winner of the 2021 Discovery Awards for memoir. It's a great honor and I'm happy to be here for this interview. Never in my wildest dreams did I think that I might be here. So thank you.
Well, this latest endeavor of mine, Playing Soldier, was published in November, 2020. To say it was a proud moment for me is an understatement.
What's the book's first line?
It begins with where I spent my childhood, "A hot, heavy, mid-summer day in New England." Anyone who's lived in New England knows these days very well.
What's the book about? Give us the "pitch."
It's easy to view Playing Soldier as a war memoir. It's even easier to perceive it as yet another Iraq War book. The title implies this and I say, "yet another," deliberately because the market's been saturated with veteran's writing in recent years. However, the story goes deeper than that. In a nutshell, learning through living is the centerpiece of the book. While the war is a character, an influential one to say the least, what's important to understand is that at the heart of this story is the unlearning of expectation and the dispensing of edicts dictated by the mechanism of society as to how one should live life.
I tried to show how I learned to be free from what is often a humdrum prescription. All my life, and I'm sure I'm not alone with this sentiment, I followed the rules. Sometimes with enthusiasm, sometimes with resignation. I went to college. I got married. I got a job. I bought a house. I enlisted with the Army, served my country. I stayed within the lines of precept, despite my inner self begging me to do something different. In other words, I ignored my true dreams for what I wanted to be, who I wanted to be, and how I wanted to present myself to the world, for the sake of approval and to be a well-oiled cog. And that's really what the war is all about in this book. Iraq became an instrument of central release, along with the events that followed, that allowed me to return to my original, childhood self. The one who wanted to create stories and write books, to go my own way and be myself without inhibition, to be liberated from an inner pressure rooted in endorsement both from society and the people I knew.
Ultimately, what I learned is that following your dreams can often be an act of reconciling your pain and making peace with your demons in order to become the full person you always wanted to be. In the end, I hope I did a good job relating these notions and how I've developed to be who I am today.
What inspired you to write the book? A particular person? An event?
Well, the inspiration actually came from my first memoir, Lines in the Sand: An American Soldier's Personal Journey in Iraq, which I published in 2015. Lines was born from the handwritten journals I kept while overseas and when I finished transcribing them into a manuscript I found that it was quite a tome, over 900 pages. Logistically, from a business standpoint, I couldn't publish a book that size with any reasonable expectation of sales due to production cost. So, as the saying goes, I was forced to "kill some darlings." But even as I was revising, I always knew I wanted to bring those passages back somehow and Playing Soldier incorporates some of that previously deleted material. That was the starting point. But it soon ballooned into a much more comprehensive story of my life with Iraq being a character, not the central focus.
What's the main reason someone should really read this book?
I think that inspiration should be a motivator. One of the most important lessons I learned from the war is that it's crucial to our emotional well-being, as people, to chase down our dreams. Our lives on this planet are a mere blink and to simply resign oneself to what society deems is important, to smother our dreams with what others tell us we should be doing, is doing oneself an injustice. Live your life, your dreams are real and valid, and I hope this book can serve as some sort of encouragement.
If they made your book into a movie, who would you like to see play the main character(s)?
Well, since I write memoir, about me and my life, I don't know if I feel comfortable shining any sort of Hollywood light on myself. I feel too humble for that kind of thing. I am after all, just a guy, a writer with some stories to tell. But it is funny you ask that, because I've had a few friends tell me that Bradley Cooper would be perfect. They seem to feel he looks like me, or I him, whichever. It's something I get a chuckle out of, more than anything else.
When did you first decide to become an author?
Consciously or unconsciously? I ask because it's my feeling that we all know what we want to do, who we want to be… but as I've said, these preconceived notions, these hunches of self-awareness, that feeling in one's bones of what's in the core of our hearts often become pretty muddy as we grow older and demands are placed on us. But we can still make conscious choices. So, I guess I would have to say that unconsciously I knew I wanted to be an author since I learned to read and write. Stories and imagination captured me from a very, very young age. Consciously, however; I made the decision after I came home from the war. The war taught me how to make that choice and to do so in an unbridled manner.
How much time do you generally spend on your writing?
The actual time varies, but I do write every day… something, even if it's just a page or two that I'm working out in my head. Writing is a funny art. It's both mysterious and remarkable how when I'm writing a new book, no matter if I'm at the keyboard, taking a break, or sound asleep at night, it's always crafting itself on some level. My mind is always sorting it out, mulling it over, creating it even down to a simple word change. It's not unusual for me to write all day until my eyes are fuzzy and my mind is mushy then put it down for the evening, only to be awakened at three in the morning with additions, deletions, any kind of change to be made on what I just wrote. For me, it's a twenty-four hour, seven day a week gig when I'm writing a new book. I'm just not always at the computer.
Is there something in particular that motivates you (fame? fortune?)
I'm not in this for money. Or fame, for that matter. I often say that if I can write a good story, a story that moves even just a few people in a positive way, a story that evokes emotion, a story that inspires people, then I'm doing my job. A good friend of mine once said, "It's not about you, Scott. It's about the words." He's right. Money is an illusion. Fame and fortune at least somewhat narcissistic. But words are magic. And like music, deeply rooted in our shared collective experience as human beings.
Which writer, living or dead, do you most admire?
Baron Wormser… without a doubt or second thought. He has an incredible, awe-inspiring mind for writing and I would swear he literally breathes language and story. His passion, dedication, and sheer love of words is very moving for me. And not only has he written so much wonderful work, but he's a walking library. He's truly someone who authentically embodies what it means to be an author.
Which book do you wish you could have written?
Oh gosh, I've read so, so many books. I guess I would have to say that Martin Eden by Jack London would be my choice, off the top of my head. Filled with elegant language, heartfelt emotion, profound sentiments, and a deeply moving story, it's a great read and my favorite work by him. Either that or… maybe Sophie's Choice by William Styron, another story that whisked me away to some other tidal place in my heart.
Thank you for taking the time to interview me.