Publisher:
MindStir Media
F. Scott Service grew up in a fantasy world of books and role-playing to escape the turmoil of his emotionally distant father and his unstable mother, who drowned her sorrows with glasses of wine.  Like many kids, he only had a vague idea of what he wanted to do as a grownup, but he liked the idea of being a soldier, and he even played war games with his friends, all bearing BB guns.  As an adult, Service settled in Montana, where he went to college, got married and settled into a steady job while enlisting in the National Guard after a recruiting sergeant sweet-talked him into the benefits of military service.  Everything was going his way. Until his Guard unit got called to duty in Iraq.
PLAYING SOLDIER is a gripping memoir of life, war, loss, and recovery.  Service writes in a linear fashion of disconnected recollections from the past.  He recalls his mother's doting love, the severe punishment he received for shoplifting, and his clueless high-school guidance counselor.  He then explains how all of that, in addition to his romanticization of his father's military service in Korea, his love for Tintin cartoons and Star Wars movies, and the war games he used to play with his friends — one of which resulting in a BB pellet cutting his friend's cheek — shaped him into the young man he was when he thought he'd found a sense of worth in becoming a Guardsman.  His formative experiences vividly illustrate how an individual is imperfectly shaped, but his memories of war brutally show how that imperfect shape is smashed to smithereens.
What's particularly telling about PLAYING SOLDIER is that Service's most terrifying experiences are not as a combatant, but as a veteran; Service's account of his time in Iraq are vague blobs of scenes and vignettes, but his memories of combat — the sound of mines exploding, the whirr of the planes, constant gunfire — are much more defined and much more harrowing.  It's the memory of Iraq that brings Service to his knees as he tries to pick up the pieces of his life, his wife having divorced him and many of his friends unable to help.  He has trouble holding on to a job, he lives for awhile in a friend 's garage, and he has angry conversations with himself in his mind, delivered in italicized print.  He perceives people's verbal gratitude for his service as more insulting than complimentary.  Service describes the inner conflict welling up within him with expertly conveyed fear and horror, culminating in an admission that he wouldn't give a dying comrade in Iraq a few moments of his time to listen when the comrade asked to talk to him.  Having let him die without reciprocating him, Service reveals himself and his vulnerabilities at his most heartbreaking moment. Service closes by addressing an old high-school classmate in the second person as he seeks to find peace.  He ends with a promise to begin something — this memoir — and readers are all the better for it, with its first-hand experience of the horrors of war.  PLAYING SOLDIER is a must-read for anyone hoping to at least come close to understanding the shell-shock victims of military madness.
PLAYING SOLDIER is a gripping memoir of life, war, loss, and recovery that effectively conveys the fear and  horror of a shell-shocked veteran who had once romanticized the idea of being a soldier.
~Steven Maginnis for IndieReader
Publisher:
MindStir Media
In PLAYING SOLDIER, Iraq War veteran F. Scott Service shares his impressionistic and episodic recollections of his life before, during, and after this pivotal conflict. Service navigates the reader on his psychological journey from 'naïve[ly] idealist[ic]' aspiring writer to the realities of life in a war zone and, ultimately, his struggle to find his place in the world as he wrangles with inner conflicts of his own. This vignette-style memoir is recounted in lucid prose that is visceral in its simplicity and directness, making PLAYING SOLDIER a compelling read for anyone who is interested in the human condition.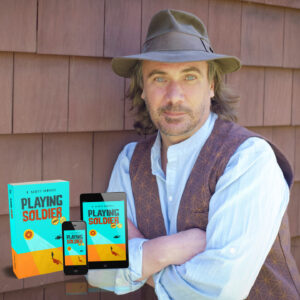 PLAYING SOLDIER is a 2021 Discovery Awards winner in the Memoir category.