Pro Review

Discovery Awards
Publisher:
Createspace Independent Publishing Platform
Publication Date:
02/05/2015
IR Rating:
Funny, tragic, and touching, MANAGING BUBBIE is a stirring memoir of an extraordinary woman and her legacy.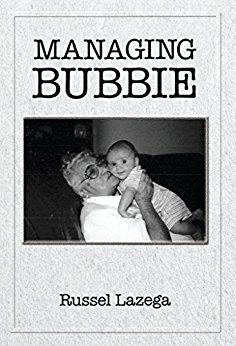 Posted by

IR Staff

|

April 25, 2018
Lea Lazega (aka "Bubbie") survived the Holocaust by means of her sheer stubbornness and refusal to do what others told her to do. Throughout her perilous journey, she sidestepped rules and expectations to preserve the lives of her children and guide them towards freedom. Forty years later, Bubbie is in failing health, and she still can't be managed—not even by her own family.
Memoirs are often difficult to write; what may seem funny to the writers who knew their subjects may not seem so to outsiders. In this sweet biography of his grandmother, author Russel Lazega handles that grueling task with ease. Simultaneously heartbreaking and heartwarming, MANAGING BUBBIE is a brilliant account of a life well lived. The story of Bubbie's odyssey runs parallel to her twilight years, an ambitious undertaking that Lazega handles with the deftness of a master storyteller. The beauty of a remarkable real-life story and the dazzle with which it's told surpass whatever rare typos and misspellings crop up.
In spite of being pieced together from second-hand accounts, the book is rich in intricate details of Bubbie's life before and during the war. Everything is seamless, from the richly detailed family history to the horrors of the war itself. Taking center stage is the incomparable Bubbie herself. Lazega treats his grandmother's story with the dignity and grace due to such a memorable woman. Guiding three small children across Western Europe, she refused to cave in to authority and instead followed her own initiative, carving out a fantastic legacy in the process. Her personality quirks invoke plentiful belly laughs, but Lazega does not sugarcoat any of her hardships, and his book is all the better for it.
Books like MANAGING BUBBIE are crucial in an age in which the wickedness of World War II and the Holocaust are slipping from the world's collective memory. This and similar books preserve the memories of those who survived and remind all of us of where we came from and how we got here. MANAGING BUBBIE also depicts the difficulty in maintaining traditions in a rapidly changing world. Memories of Sunday brunches and quibbles over TV game shows come alive, illustrating the impenetrable bonds of the family Bubbie fought so hard to hold together.
MANAGING BUBBIE is a gorgeous monument to an unforgettable personality. It touches readers and stays with them like a great book should.
Funny, tragic, and touching, MANAGING BUBBIE is a stirring memoir of an extraordinary woman and her legacy.
~Heather McNamara for IndieReader
Publisher:
Createspace Independent Publishing Platform
Publication Date:
02/05/2015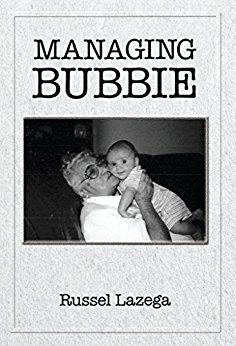 Posted by

IR Staff

|

April 25, 2018
IR VERDICT:
Every seemingly fragile "little old lady" (or man) is actually a warrior who has bravely overcome traumas and historical tribulations that we can only imagine. MANAGING BUBBIE is written as a relatable and cathartic tribute to one beloved grandmother's heroic journey, but in reality, it honors her entire generation's struggle to bring us all the better lives we have today.