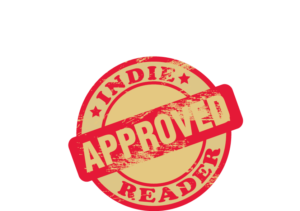 The Girl in the Blue Blazer received a 4+ star review, making it an IndieReader Approved title.
Following find an interview with author Alretha Thomas.
What is the name of the book and when was it published?
The Girl in the Blue Blazer was published January 17, 2023.
What's the book's first line?
I sit on a mahogany leather sofa in the waiting area of Clifford Investments, salivating at the thought of my goal being within arm's reach.
What's the book about? Give us the "pitch".
Two women. One powerful man. A decades-old secret binds them together.
In 2019, Pamela Carter is determined to secure her dream internship with billionaire businessman Andrew Clifford III.
Twenty-five years ago, in 1993, Andrew is just starting out. Without any of his later fame or fortune, the party boy becomes a legitimate hero when he intervenes to save assaulted Elizabeth Westlake. Sure, she's a waitress at a strip club, but that's not her dream. Elizabeth is determined to write her way out of the Harlem hellhole she lives in. Maybe Andrew is the ticket? Even the best-laid plans go awry, and for Elizabeth, tragedy looms.
Pamela is impossible not to notice and she soon becomes Andrew's prime intern. But, just as with Elizabeth, not all goes to plan. The stocks are plummeting. The company is careening. And then, Andrew himself goes missing. Will Pamela also be plunged into the tragedy that surrounds this man? Or is Pamela the one person who really knows what happened that fateful night in 1993? More than a company is at stake, as Andrew struggles for survival. But sometimes, the past is too powerful. Some secrets refuse to remain buried. Sometimes, truth kills.
What inspired you to write the book? A particular person? An event?
When the #MeToo movement started in 2017, I remember seeing the hashtag everywhere. Although I had empathy for the victims, I suppressed the thoughts and memories of my own sexual assault experience. When I was a little girl, an acquaintance of my mother, touched me inappropriately numerous times and at one point tried to force his member into my mouth. As I continued to see the hashtag, I added my name to the list. It was at that point, I knew I would one day write a book that shined a spotlight on this issue. Thus, five years later, I began writing The Girl in the Blue Blazer.
What's the main reason someone should really read this book?
We are living in dire times. We're barely recovering from the ravaging effects of Covid, tackling high gas and food prices, grappling with who we're going to vote for in 2024, and so on. We need inspiration. The Girl in the Blue Blazer can provide that inspiration. The novel features a young woman who has everything stacked against her. She has very little education and no money, but she has big dreams, and in spite of her circumstances and the man who betrays her, she fights to the death to realize her dreams.
What's the most distinctive thing about the main character?  Who-real or fictional-would you say the character reminds you of?
There are two main protagonists in The Girl in the Blue Blazer—Pamela Carter and Elizabeth Westlake. The most distinctive thing about both of them is their unrelenting tenacity. They remind me of myself. I was born poor and lived in the projects in San Francisco. My mother suffered from asthma and struggled. At the age of three, I was scalded with boiling water by a crazed neighbor. I had third degree burns. I was in traction for three months. I had to learn to walk again. At the age of six, I was molested numerous times by an acquaintance of my mother. During my elementary school years, I was beaten with extension cords by my stepfather. During these harrowing times, my mother tried her best to protect me, but she was ill. She succumbed to asthma at the early age of thirty-six. I was fourteen. I was sent to live with my maternal grandparents. It was the worst year of my life. I focused on school, graduated salutatorian, went on to USC and graduated with a degree in journalism. I subsequently became an award-winning author and an actress. I have fourteen published books, and I am a series regular on Tyler Perry's Assisted Living that airs on BET. I play Anastasia Devereaux. Like the characters in my book, I had relentless tenacity!
When did you first decide to become an author?
I wrote my first story in the fifth grade. My teacher gave the class a short story assignment. I got an idea to write a story about a bag boy in a supermarket who falls in love with a young customer. I guess you could say that was my first romance story. The following day our teacher congratulated the entire class on our work. However, she said there was one story that stood out, and that story was mine. I nearly fell out of my chair. I couldn't believe it. She read it aloud and the class was riveted. While I was watching the expressions on the faces of my peers, I knew in that moment I wanted to be a writer for life.
Is this the first book you've written?
The Girl in the Blue Blazer is my fourteenth novel. My first novel, Daughter Denied, was written in 2008.
What do you do for work when you're not writing?
I am a full time writer and actress. When I'm not writing, I'm auditioning and/or acting. I am a series regular on Tyler Perry's Assisted Living. I play Anastasia Devereaux. We film in Atlanta at Tyler Perry Studios once a year. It's an amazing experience.
How much time do you generally spend on your writing?
I usually write six to eight hours a day when I'm working on a novel. The time just flies by.
What's the best and the hardest part of being an indie?
The best part is the autonomy. I call the shots and the only deadlines I have are the ones I set. The hardest part is marketing and selling your work, because you don't have a publishing house behind you with myriad resources and contacts.
What's a great piece of advice that you can share with fellow indie authors?
Keep writing and write what you love not what's trending.
Would you go traditional if a publisher came calling? If so, why?
Yes, I would in spite of being rejected by hundreds of them for over two decades. The agent I had for The Girl in the Blue Blazer tried to sell it for a year. He really believed in it and told me not to give up on it. I knew I never would. It's getting great reviews, and I believe readers are going to turn it into a bestseller. A traditional publisher could get my book exposure I couldn't, not to mention the advance I could possibly receive, and the other perks that come with a traditional book deal.
Is there something in particular that motivates you (fame? fortune?)
I am a very determined person by nature. I love telling stories. I didn't have the opportunity to have children, so my books are my babies. When I give birth to them, I'm like every other proud mother, I want everyone to love them. I want the world to love them and experience what I experience when reading my work.
Which writer, living or dead, do you most admire?
I love Toni Morrison.
Which book do you wish you could have written?
Becoming, by Michelle Obama. That was one of the most amazing memoirs I have ever read. I experienced every emotion known to man. I cried, I laughed, I got pissed, I was on edge. Of course, I would have had to be the woman President Barack Obama married. Well, I can dream, can't I? Lol.