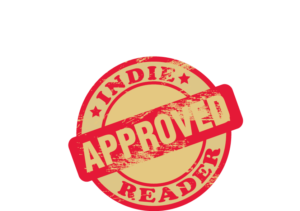 Time to Wake received a 4+ star review, making it an IndieReader Approved title.
Following find an interview with author K. Thomas.
What is the name of the book and when was it published?
Time to Wake, published February 14th, 2021, because who doesn't want to release a romance on Valentine's Day.
What's the book's first line? 
I contently lathered the shampoo through my hair, attempting to relax in a hot shower by myself, but Benny wasn't having it.
What's the book about? Give us the "pitch".
Senlis is your typical artist. Empath, hater of mornings, and the bearer of a strange name passed down from her grandmother. With a penchant for caffeine and a pet ghost, she's just trying to live her best life.
Did she mention she also happens to devour souls? No? Well, it's a bit of a conversation killer… no pun intended.
When new neighbors move in across the street, Senlis strikes up an unexpected friendship with the equally quirky Katie. The two get mixed up in a party circuit that leaves a string of missing girls– and a trail back to Senlis' less than human origins. At the center of it all is Hunter: a guy not smart enough to keep his distance. He's arrogant, frustrating, and terribly distracting… Just, please don't tell anyone she admitted that last part.
Is Hunter involved in the mysterious murders? Or is he just in the wrong place at the right time?
As she tries to figure out Hunter's motives, Senlis ends up learning what it means to be a Nephilim, and how her past plays a role in the murders. The book takes you through Senlis self-discovery as she navigates friendship, romance, and serial killers – you know, the everyday issues.
What inspired you to write the book? A particular person? An event? 
I had very vivid dreams and nightmares as a child and teen. It became a habit to write them down. The original version of Time to Wake started from two separate dreams that I decided to piece together as a story in high school. Twenty years later, we're all trying to find ways to keep calm and stress-free during the pandemic, and writing was my outlet. I needed it to sleep, to unwind from the day. I happened to stumble upon the handful of chapters saved in an old computer backup and decide I wanted to finally make it a book. Though, the final version only barely resembles the original story, which is how these things often go.
What's the main reason someone should really read this book? 
It makes for an enjoyable escape for readers who like character centric stories and well-timed dialogue.
What's the most distinctive thing about the main character?  Who-real or fictional-would you say the character reminds you of? 
She has insecurities revolving around her powers, mostly fear of what she could do to another person, or what they will think when they discover what she is. Over-all though, she's strong and confident, and a tad snarky (just a smidgen… really). In my head her personality is an anti-social Jennifer Lawrence.
If they made your book into a movie, who would you like to see play the main character(s)?
I have no idea how to answer this question… Getting it published was everything, I'm not at movie production fantasies yet!
When did you first decide to become an author?
It was always something I wanted to do, but this past year my husband pushed me forward. It takes a strong support system to put yourself out there sometimes.
Is this the first book you've written?
Yes, or at least the first one to make it past an initial manuscript stage.
What do you do for work when you're not writing?
A day job that I love but keep top secret. Pen names are a beautiful thing.
How much time do you generally spend on your writing?
When I'm actively writing, anywhere from ten to fifteen hours a week. Usually, an hour or two a night, and then one day on the weekend.
What's the best and the hardest part of being an indie?
The best part is having control of your schedule and your own deadlines. That, of course, comes with also having control of your own PR and marketing. Can't have everything!
What's a great piece of advice that you can share with fellow indie authors?
Don't stop writing. Even if one person reads your book and thinks, "Wow, I love this," it's worth it. And they will.
Would you go traditional if a publisher came calling?  If so, why?  
It would really have to be just the right fit. I love my day job, and traditional publishing would mean needing to balance deadlines and obligations, but the right publisher might be worth it.
Is there something in particular that motivates you (fame? fortune?)?
Giving someone an escape, even for a moment. We all need it. Writing the books is mine, and it brings me joy to know reading them provides that to others.
Which writer, living or dead, do you most admire?
If I must choose just one…Neil Gaiman, because what can't that man do?
Which book do you wish you could have written?
Flowers in the Attic by V.C. Andrews. Her entire franchise is amazing, and she was iconic. I don't know if I'm sold on wanting a traditional publisher for my books, but I do remember wishing I could ghost write for V.C. Andrews. That would be an incredible experience.