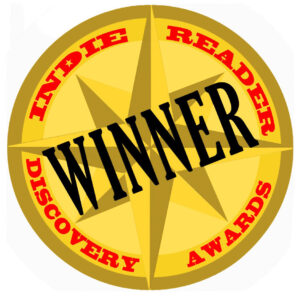 Aviona the Flying Carousel Horse of Long Beach Island was the winner in the Middle Grade category of the 2021 IndieReader Discovery Awards, where undiscovered talent meets people with the power to make a difference.
Following find an interview with author Corinne Ruff.
What is the name of the book and when was it published? 
Aviona the Flying Carousel Horse of Long Beach Island, November 28, 2020.
What's the book's first line?
"Every storm brings something and takes something away."
What's the book about? Give us the "pitch". 
Aviona the Flying Carousel Horse of Long Beach Island is Pinocchio meets Misty, Dumbo, and Dorothy. Good books give readers a view through enchanted windows, into powerfully reflective mirrors, and swing open magical doors. Aviona gives them wings and inspiration to reveal their own courage.
What inspired you to write the book? A particular person? An event? 
Aviona was inspired by and reflects my passionate flight journey, which took off at the age twelve, culminating in flying internationally as a pilot for the best airline in the world, Delta Air Lines.
What's the most distinctive thing about the main character? Who-real or fictional-would you say the character reminds you of? 
Aviona is courageous. She is equal parts of my Mother, Barbara and my Daughter, Ava. She shares their beautiful spirit, always finding the best in everything and everyone they meet, with humor, humility, and grace.
What's the main reason someone should really read this book? 
Aviona invites you to witness the art and beauty of "Becoming." She inspires the Hero's Journey that lies before all of us, if we are brave enough to take the first step.
If they made your book into a movie, who would you like to see play the main character(s)?
In an animated film, I hear Scarlett Johannsson as Aviona's voice – strong, graceful, funny, and very smart. As a magical horse representing the journey from "impossible to possible" Scarlett would be the perfect match – an unbridled female protagonist who knows her power and uses it for global good.
When did you first decide to become an author?
I don't think you decide to become an author. You write because it flows to you and through you. You write to attempt to hold on to the tail of the tiger as its body slips through your fingers. I wrote an essay in 6th grade and won the Daughters of the American Revolution contest. It was the first time something I wrote was acknowledged. I knew flying required me to be good at math and science, so I steered away from writing. Turns out, you can be good at many things! Writing kept drawing me back in. I wrote a few articles for magazines and wrote stories that live in a folder on my computer until it's their time to fly.
I write when I felt inspired. One of those inspired events led to "Island Child, Life Lessons from the Shore" published by Down the Shore Publishing in 2012. "The Sea" in 2015 was a love letter to the ocean, one of my greatest sources of inspiration. Inspired writing led to creating two Award Winning Documentaries: "Landfall, the Eyes of Sandy" and "The Oyster Farmers."
I think you decide to write. If you keep writing, you may or may not become an author, but you will always be a writer.
Is this the first you've written?
No, but it did take me a long time to write this book, since 2009.  I wasn't listening to the story as it came to me – I was trying rewrite it. I credit Aviona with her unwavering support to keep coming to me and asking me to tell her story. Turns out, she was giving me the greatest gift – a deeper understanding my own life story.
What do you do for work when you're not writing?
I'm a pilot for Delta Air Lines, but am grounded due to spine issues. As soul crushing as it is to not be flying now, I'm taking people on a literary journey. Writing Aviona has allowed me to showcase the beauty of flying, inspiring the love of flight for future generations.
How much time do you generally spend on your writing?
I am always storytelling, creating micro storylines based off of things that I encounter, but I only write when I feel moved. I see the story in my head, or in dreams, or a download will hit me for an entire scene – like watching a movie. I write down highlights on scrap paper or notecards until I can sit down and literally type as fast as I can to capture what I saw, heard, smelled and felt. (It's not pretty – my daughter says I looked possessed! Thanks Kid!) I need to have 432hz music in my earphones and a white candle lit when I write. It keeps me in the stream of consciousness the best, as I just type. I'll go back later and add even more detail to the scene, once I can hit pause and look at it more closely, listen more closely, and document the extra fine details, layering it up with all five senses.
What's the best and the hardest part of being an indie?
I'm a self-starter. I enjoy figuring things out on my own. Where most people get frightened and recoil in self-doubt at a critical point, I step on the gas pedal. It comes from years of  building intuitive trust and gaining self-confidence from "actually doing the scary thing-repeatedly… whatever that thing might be." I'm comfortable not having answers immediately and allowing them to be revealed to me. The best part is becoming Ringleader of your own book circus experience. You manage the energy. Accepting challenges and understanding that it is a long journey to bring something to life from nothing, helps. Roadblocks are just course adjustments. The hardest part is weathering the seasons that come with the book journey, all alone. Once the book is out – it's like holding an eternal summer in your hands, celebrating its life with kindred sunbeam souls.
Would you go traditional if a publisher came calling?  If so, why?  
Yes. I love collaborative projects. I have worked with a traditional publisher and learned a lot from the experience. I have respect for the professionals who have honed their craft and I seek to learn from them. Birthing books is always a collaboration with a team, whether you build the team yourself as an Indie Publisher or join a Traditional Publishing team. You need great writing, editing, marketing, and most importantly – great vision.
Is there something in particular that motivates you (fame? fortune?)
Allowing my creativity to flow is a major motivator. If something lights me up – I keep going down that path. Being in tune with my authentic self is the main goal and most rewarding experience. It's where I find clarity, focus, and creative flow.
Which writer, living or dead, do you most admire?
Mark Nepo, for "The Book of Awakening". The book centers on the journey of discovering our core of inner courage. His writing expands your heart, mind and soul. It's otherworldly.
Which book do you wish you could have written?
I wish I wrote "Big Magic" by Elizabeth Gilbert. I read it recently and it confirmed a lot of what I have come to know and love about creativity.
We all have it.
Don't be afraid to reveal yours, because it truly is a gift.
My opening line would be:
That powerfully raw moment
when the lightning bolt realized
her voice was
THUNDER.