If you're looking for self-published book awards, you're in the right place. This article will describe the top 10 awards and what it takes to enter.
There are dozens of Independent book awards out there seeking your self-published book entry.
How can you as a self-published author know which competitions will:
Provide the most benefit?
Be truly legitimate?
Expose your book to the right people?
While the choices for self-published book awards are numerous, their value can be hard to determine. It's important to you–and your book's success–that you enter competitions that will provide you the most benefit.
The value of Book Awards for Self-Published Authors
Self-published authors often find their books lost in a sea of hundreds of thousands of others.  This leaves them without much hope of being discovered. However, winning the right book award can be a catalyst for discovery. And with this type of discovery a self-published author and their work out of obscurity and into the spotlight.
While all independent author book awards programs work a bit differently, they all have the same goal: helping self-published authors get their book into the hands of more readers.  Recognition from a prominent panel of judges can increase a book's credibility, visibility, and marketability.
When you enter your self-published book into an awards program, several good things can happen.
Look for a book award that will give you the best chance of the following:
You will get something usable (i.e. a verdict or other feedback) that you can use in your marketing, even if you don't win the main award
To get your book in front of seasoned professionals who possess the knowledge to recognize quality writing
An increased chance of getting discovered by readers and/or publishing professionals
If your book does win, you will increase your chances of being connected with a literary agent and/or publisher that can help you take your book to the next level.
By sharing your book with other experts, you can take that first step toward expanding your sphere of influence in the world of both book readers and publishing professionals.
Here are the top 10 Self-Published Book Awards Programs, starting with our very own IndieReader Discovery Awards.
The IndieReader Discovery Awards (IRDAs) is a where undiscovered talent meets people with the power to make a difference.
What makes the IRDAs so unique is their panel of judges. This panel includes:
A public relations professional
A developmental editor from Reedsy
The Director of Author and Publishing Relations at Amazon
Two editors from Kirkus indie
All of which are well capable of recognizing great work when they see it.  Entries are judged based on content, originality and writing quality.
Other Benefits
In addition to announcement coverage in top consumer (Huffington Post, The Wall Street Journal) and trade publications (Publisher's Weekly, GoodeReader), top winners of the Discovery Awards receive
Kindle Paperwhites
IndieReader and Kirkus pro reviews
A custom author website
And most importantly, first look consideration from New York City-based literature agents, Dystel, Goderich, and Bourret
And it's not just the winners who benefit. Every author who enters receives a verdict, written by one of InieReaders' professional reviewers.
The verdict can be used as a promotional blurb and is a great way to add credibility to your book on your website as well as at Amazon, Barnes and Noble, and GoodReads book pages.
Entry Fee: The entry fee for the IRDAs is $150 for the first category and $50 for each additional category.  In addition to six main winners (top 3 fiction and 3 non-fiction titles), there is the potential for there to be winners in each of the 50+subcategories, ranging from romance and science fiction to self-help and business.
More Self-Published Book Awards
In addition to the IR Discovery Awards, there are a host of other legitimate awards that you, as an independent or self-published author, can enter as well. Some of the other more recognized, authentic awards competitions are listed below.
2. The Eric Hoffer Award

Created in memoriam of renowned author Eric Hoffer, the Eric Hoffer awards program honors 19 categories including Art, Poetry, Fiction, Non-fiction, Business, Children, Young Adult, Self-Help, and others.
Category judges can include:
Publishing professionals such as:
Literary aficionados such as:
librarians
artists
experienced readers
reviewers
The entry fee is $55 per book ($40 for chapbooks). You do have the option to enter your book in more than one category, however, each entry requires a separate registration form and separate entry fee.
Prizes include a grand prize award of $2,000, as well as other medals, distinctions, and honors.
3. The Independent Publisher Book Awards

Known as the IPPYs, the Independent Publisher Book Awards program is geared toward independent, university and self-published titles worldwide.
The IPPYs accept applications in over 80 categories, including Best Regional Fiction, Best Regional Non-Fiction, Best First Book, Fine Art, Photography and many more.
Judging criteria include:
First Impression
Design
Originality
Use of Language
Message Delivery
Relevance
The IPPYs are advertised as the largest book awards competition, and prizes include gold, silver and bronze medals.
The entry fee is $95 per category, with an additional fee of $55 for adding your book to a regional or e-category competition. Judges include experts in the fields of design, editing, reviewing, library and bookselling.
4. The IBPA's Benjamin Franklin Awards
The IBPA's Benjamin Franklin Awards program accepts entries from all publishing models, including self-published and independent authors.
Judging is based on a variety of editorial criteria and design criteria, including:
Writing
Organization
Clarity
Cover essentials
Layout
Design
Judges come from many backgrounds including but not limited to:
Experienced industry professionals
Librarians
Bookstore owners
Reviewers designers
Editors
Publicity managers
Entry fees are $95 for IBPA members and $225 for non-members.
5. The Writers Digest Self-Published Book Award
The Writers Digest Self-Published Book Award program is open to any self-published author. Categories include Mainstream Literary Fiction, Genre Fiction, Non-Fiction Reference, Inspirational, Life Stories (including biographies, autobiographies, family histories, and memoirs), Early Reader/Children's Books, Middle Grade/Young Adult and Poetry.
Entries will be judged based on:
Content
Writing quality and the overall appearance
Quality of the publication
The Grand Prize Winner receives, among other prizes, $8,000 in cash. The First Prize Winner Receives $1,000 in cash.
The entry fees vary between $20 and $35 per submission.
6. The Foreword INDIES Book of the Year Awards
The Foreword INDIES seeks to recognize independent, self-published and university authors. Categories include:
Fantasy
General
Historical
Horror
Erotica
Literary
Humor
LGBT
Multicultural
Mystery
Religion
Science Fiction
And much more
The panel of judges includes over 150 booksellers and librarians, working together with various industry professionals to narrow the field of competition and select the winners.
Entry fees for each book submission are $99 for the first category and $79 for any subsequent category entrances. Prizes include:
A Foreword INDIES marketing toolkit
Press releases, and announcements sent to over 10,000 media and industry professionals
Opportunities to participate in specially branded advertising
7. The Next Generation Indie Book Awards
The Next Generation Indie Book Awards claims the honor of largest not-for-profit awards program for independent publishers. They accept entries from independent publishers and authors worldwide, with the stipulation that the book is published in the English language.
They have over 70 categories to choose from including:
Fantasy
First Novel
Spirituality
Thriller
Health/Wellness
Travel/Travel Guide
Several Children's and Juvenile book categories
Among many more
Judges include a panel of expert editors, writers, and publishers. Prizes include:
A variety of cash awards from $100 up to $1500
Medals to the top five winners!
As well as other benefits
The top 70 winning books will be reviewed by renowned literary agent Marilyn Allen.
The entry fee is $75 per book for the first category, and $60 per category to enter the book in any subsequent category.
8. The Best Indie Book Award
The Best Indie Book Award program only accepts books in which the author has full right of title. If a book is not independently or self-published, it cannot be entered.
Categories include:
Action/Adventure
Fantasy/Paranormal
Literary/Mainstream
Mystery/Suspense/Thriller
Non-Fiction
Novella/Short Story Collection
Romance, Science Fiction/Dystopian
Young Adult
Children
Entries are judged based on:
Storytelling ability
Engagement
Transitions
Pace
Dialogue
Grammar
Among others
Books can be submitted in more than one category however the entry fee is $50 per category per book.
9. The National Indie Excellence Awards
The National Indie Excellence Awards (NIEA) is open to small to mid-size independent publishers, universities and self-published authors.
This awards program allows for entries in dozens of categories including:
True Crime
Western
Steam Punk
Fantasy
Fitness
Green Living
Home and Garden
Religion
Relationships
Leadership
And many others.
Entry fees are $75 per book, per category.
10. Axiom Business Book Awards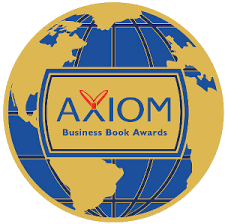 Axiom's Business Book Awards program is open to both traditionally published and self-published authors of business-related books.
Categories of entry include:
Business Theory
Business Commentary
Economics
Philanthropy
Women and Minorities in Business
And more.
According to their website, judging is based on:
Content
Originality
Design
Production quality, with an emphasis on innovation and creativity
The entry fees for the Axiom awards program are as follows:
Early bird entry deadline #1: $75 per title, per category
Early bird entry deadline #2: $85 per title, per category
Regular entry fee:  $95 per title, per category
Authors worldwide may enter as long as their submissions are published in the English language.
Conclusion
A vital part of a marketing plan for an indie author is getting your work in front of as many people as possible and these self-published book awards will do just that. You want those people to have the influence to help you make connections with readers and the publishing industry's power players.
Don't miss the chance to get your self-published book in front of hundreds of industry experts by submitting your work to an awards competition. Enter your book in the IndieReader Discovery Awards competition now.
Independent authors who have competed in the IRDAs will tell you it's one of the best marketing moves they've ever made.