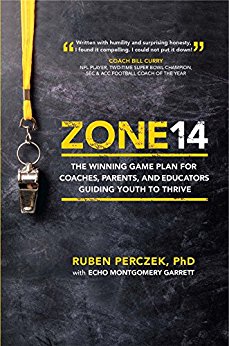 Verdict: ZONE 14 is aimed at fostering potential and inspiring progress. In its wisdom and simplicity, it surpasses most of the pack of texts trying to do the same.
Where is life's scoring zone? Ruben Perczek helps focus the mind of the young, targeting a kind of non-specific, conceptual development strategy when it comes to getting yourself in ZONE 14: the spot where you get to take your shot.  Penned by Ruben Perczek, a performance and strategy advisor, Zone 14 is about the young, and achieving potential. Aimed at teachers, parents and coaches, it takes the principle of soccer's 'Zone 14' – essentially the scoring zone – and tries to apply it to everyday life.
Appropriately, it's split into 14 fairly straightforward zones, each explained through Perczek's life experience. What's smart about Zone 14 is its smartly non-specific, much like other achievement and adaptability parables such as 'Who Moved My Cheese?' Perczek doesn't so much seek to offer advice for individual scenarios, dismissing the concept that everyone is able to follow the same trail to success. Instead he looks at individual strength and potential, learning models, and how to maximize attainment as a broader concept.
Perczek is wary of life's issues, and that sets an important and valuable context for his book. Cogent that young people face complex and daunting decisions early in life, and are often not training specifically to succeed where it actually matters, the author asks himself – and then guides the reader in simple lessons – what's important, and how to choose a purposeful direction in which they have true potential. It's a noble aim: clearly many adults can attest to the reality of life working in an area in which they feel they weren't particularly designed to succeed, be it through lack of planning, poor early life decisions, or simply not understanding what we are good at.
Inspiration is hard to come by, and pragmatic advice sometimes even harder. Perczek's concepts can be moderately abstract, but are mostly more straight-talking. He contemplates planting the roots from which life's successes grow. He examines that inner turmoil, contemplates the challenges of change, and explores resilience. The chapters – not longer than four or five pages each on average – are almost pamphlet like, but seem to have taken a 'cut the chaff' approach, simply giving the benefit of life experience, snapping straight to the point, and then getting out of dodge while the message is still at the forefront of the brain.
If there's a criticism, it's that the stories can feel a touch contrived. There's arguably nothing wrong with that, if it delivers the point more effectively (and this is not a book to beat around the bush), but when Perczek talks of his son, his opportunities in soccer, and his life progression, it's hard to see how he couldn't be substantially simplifying both the reality of the encounters, and the stark wisdom of his responses. Is that a problem? Not in the context of a book that's supposed to deliver life messages and progress concepts, perhaps (we'd all give better advice given time to think, after all), but it does lose a little of the authenticity in the starkness of the picture-postcard stories.
The lessons here easily overwhelm any doubts about the veracity of the tales around them, however. Simple but worthwhile concepts, delivered with honesty, they seem like they'll pass on the space, knowledge and principles of success in a subtle way from coaches and parents to kids. This is about creating the right setting, the right ambience to go places. There's no guarantee of a success story, naturally, but much like the title, it does feel like following Perczek's principles will put a youngster in the the right frame of mind, and bang in that all important target zone.
~James Hendicott for IndieReader
https://indiereader.com/wp-content/uploads/2017/12/zone.jpg
346
229
IR Staff
https://indiereader.com/wp-content/uploads/2016/12/ir-logo-2017.png
IR Staff
2017-12-27 09:00:13
2017-12-21 13:40:53
ZONE 14