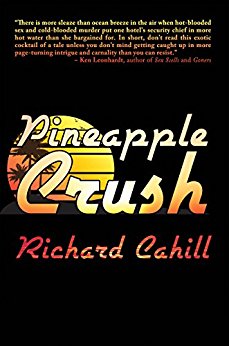 Verdict: Artie Harper's sharp humor and brilliant detective work, and unpredictable, climactic plot twists make PINEAPPLE CRUSH a must read for film noir-crime drama fans.
Richard Cahill's PINEAPPLE CRUSH is an intriguing, gripping mystery with a strong plot and witty, sarcastic dialog. It's packed with colorful, often devious characters and the author weaves in insightful, nuanced descriptions of Hawaiian climate and culture, and the tensions between native peoples and Caucasians.
The heart of the novel is Artie Harper. She's a film noir Humphrey Bogart of the tropics, a no-nonsense tough-talker and wonderfully sarcastic tour-de-force detective. She has dogged determination to stamp out corruption in her hotel and does it with a quick mind and a sharp wit that exposes her adversaries' shortcomings right and left. Artie's darkly funny view of the world, fierce devotion to her daughter–and a bad habit of getting herself into trouble–make her likeable and believable. Despite her world-weariness and a grim view of life, the reader can't help but root for her.
The plot drags a bit in the middle when Harper is running down some false leads with John Ma, a sergeant with the Hawaii Police Department. The character Princess, a hotel maid turned prostitute who plays a key role in the plot, could have been developed more. It would make for a stronger story if the author had included more of her background and given her more interaction with other characters.
Yet for the most part, the plot is tightly paced with plenty of surprises. In her quest to solve the murders, Harper digs into the lives of a motley assortment of well-drawn, corrupt characters: an exiled, genteel South American dictator with a brutal past who gushes over Harper; a hotel manager with Ivy League smarts who runs a secret prostitution ring on the side and wants her fired; and a mysterious, polished, seductive government employee, Katie Kyler, Harper's only ally and love interest.
As Harper uncovers more seediness, her mission becomes a race to solve the crimes before she is indicted, or killed by unknown people who prefer she not get too close to the truth. The novel's climax and denouement have some outstanding, deftly handled plot twists and clever fight scenes, leading gracefully to a heartwarming ending.
~Matthew Wiencke for IndieReader
https://indiereader.com/wp-content/uploads/2017/11/pineapple.jpg
346
229
IR Staff
https://indiereader.com/wp-content/uploads/2016/12/ir-logo-2017.png
IR Staff
2017-12-04 09:00:27
2017-11-25 11:20:12
PINEAPPLE CRUSH