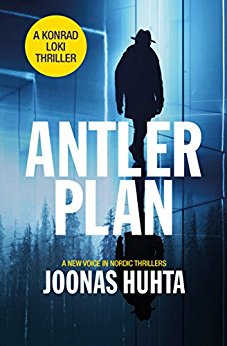 Verdict: ANTLER PLAN has a fascinating premise for a terrorism-based thriller and offers a unique seasonal setting, but ultimately the execution becomes muddled as the novel progresses.
Konrad Loki, professor at a university in Rovaniemi, Finland, is nearly killed by a suicide bomber and left to die in the snow. The attack sets in motion a chain of events that wrenches Konrad into a nefarious plot to reprogram the world's future children in order to create a utopia full of morally superior human beings. Working alongside his former student Ruut Stark, the pair follow clues left in an ancient text in order to thwart the use of a dangerous biological weapon during the height of the town's Christmas festivities. In a race against time, can Konrad and Ruut take down those responsible before the plan is unleashed upon unsuspecting tourists?
In this debut "sci-fi terrorism" thriller, author Joonas Huhta treads on familiar territory to deliver the novel's wintery setting. Full of barren, snow-laced forests, icy lakes, and frigid temperatures, the elements provide a harsh adversary for the story's intrepid duo, Konrad and Ruut. For a town so dependent on Christmas and Santa Claus, the festive spirit doesn't really come into play until the third act of the novel. ANTLER PLAN's first and third acts are the most coherent, though, leaving a messy middle to wade through.
There are a lot of plot threads at work here, from an ancient book bound in human skin, to a psychic element that isn't fully explored, and an engineered virus that has the capacity to change people's morals. It's a frightening thought, but the narrative rushes from one event to the other, dragging the reader along at a sometimes confusing pace. Pages of overwrought philosophical discussions, while interesting, tend to bog down the storyline. With important details about the biological weapon tossed to the side until the very last moment, the third act loses some of its drama and tension.
Konrad is difficult to root for at times, but his narrative arc involving Ruut's teenage son Gideon is one of the best in the novel. Ruut herself is a standout character—tough as nails, clever, and willing to challenge Konrad at every turn. She and Konrad's ongoing debate over religion and Ruut's strength in her faith are a driving force. ANTLER PLAN leaves the door wide open for Konrad's story to continue in an ongoing series.
~Jessica Thomas for IndieReader.
https://indiereader.com/wp-content/uploads/2017/11/antler.jpg
346
227
IR Staff
https://indiereader.com/wp-content/uploads/2016/12/ir-logo-2017.png
IR Staff
2017-11-15 10:53:01
2017-11-15 10:52:01
A high-stakes thriller plays out across a festive Finnish town in ANTLER PLAN