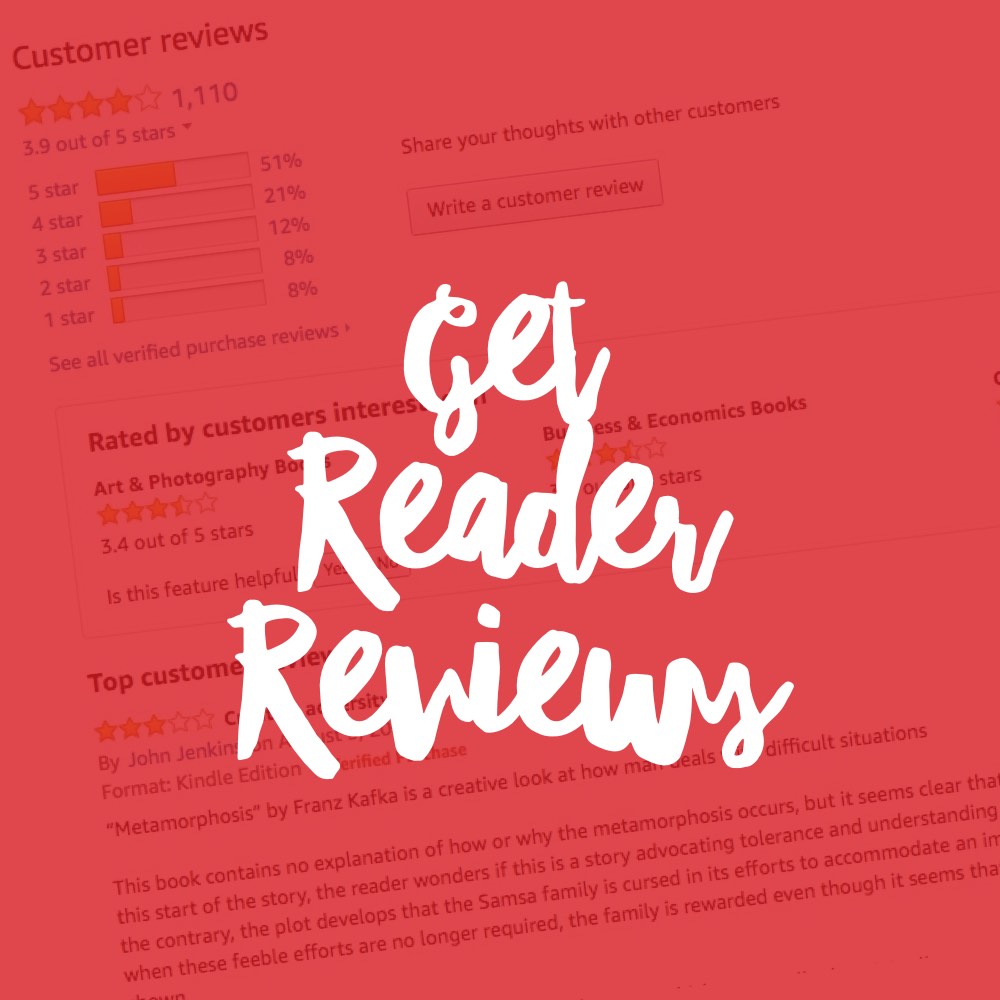 Unable to generate the number of reader reviews that will encourage others to buy your book?  Running out of friends and relatives willing and/or able to read your latest title? 
No problem!
Let's face it…your Amazon and GoodReads book pages are ground zero for your book sales. And while having positive blurbs in your "Editorial Review" section is important, so are having reader reviews.
Why do we bring this up now?
Because now, in addition to our professional reviews, IndieReader offers you the opportunity to connect with readers, who will post their honest, unbiased reviews on your book's Amazon and GoodReads pages.
What's the difference between an IR Pro Review and a Reader Review?
We vet our professional reviewers very carefully to make sure they have the background, skill and training to write an IR Review.  You can pull portions of your IR Review to post in the Editorial section of your Amazon book page and your website.  Should you get a 4-5 star rating, we will include your book in a monthly "Best Of" round-up in the Huffington Post. And if you receive a rating of under 2.5 stars we will send it to you for approval prior to posting.
IR's Reader Reviews are written by one (or three or ten) of our database of hundreds of readers, who enjoy discovering new books in all genres.  And while IR does guarantee that you will get the number of verified reviews you've paid for in an approximate 6-8 week turnaround, we do not interfere with the review process in any way, and therefore can not guarantee the outcome (positive, negative or otherwise).
How do Reader Reviews work?
As authors we know that getting reader reviews can be a Catch 22. There are only so many friends and relatives you can hit up before you become persona non grata. And without reader reviews you're less likely to rank on Amazon, which makes it less likely people will purchase your book, which often lead to more reviews.
IndieReader, a trusted service provider for indie authors since 2009, has amassed a huge number of readers who would love the opportunity to read your book and write and post an honest review.
IR will circulate your book among our readers who will choose the genres they most like to read (we have readers for all genres!).  Your readers will buy your book directly from Amazon, making them "Verified Purchases".
Working in a similar way as services such as BookBub, we simply connect your book to our pool of interested readers and manage the process of getting you a timely and guarenteed review.
In 6-8 weeks, we'll send you a link to your review. IR can not guarantee that your book will receive a positive review, but we do guarantee that your will receive the number of reviews you pay us to secure for you, leading to more sales and more reviews.
So what are you waiting for?  Boost your books' sales position with Verified Reader Reviews, posted to your Amazon and GoodReads pages. IR will get your book into the hands of readers who will write and post honest reviews to give your book the sales power it needs to sell more copies.
https://indiereader.com/wp-content/uploads/2017/10/reader-rev.jpg
1000
1000
IR Staff
https://indiereader.com/wp-content/uploads/2016/12/ir-logo-2017.png
IR Staff
2017-10-16 22:00:46
2018-10-17 15:20:29
IndieReader Can Now Help You Get Reader Reviews