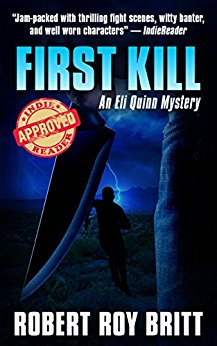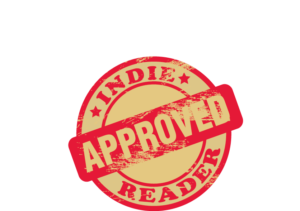 First Kill received a 4+ star review, making it an IndieReader Approved title.
Following find an interview with author Robert Roy Britt.
What is the name of the book and when was it published?
First Kill, published Oct. 17, 2016.
What's the book's first line? 

The tall man drove into the circular entrance of the hotel, parked away from the valets.
What's the book about? Give us the "pitch."
First Kill is a tale of sex, money, love and murder, in which the budding private eye Eli Quinn, now on just his third case, fears he's stepping into a mess when he agrees to find a woman's father, a real estate agent who has gone missing. The mess gets worse than he expected, more agents go missing, and Quinn ends up in a race to catch a presumed killer before it's too late.
What inspired you to write the book? A particular person? An event?
This story is inspired, to some degree, by the dog-eat-dog world of real estate agents in small Arizona towns. While the book isn't based on any of the agents I know personally, their highly competitive natures were great fodder for plot.
What's the main reason someone should really read this book?
It's a romp. Sex (mildly referred to, nothing graphic), fighting, love, money, fighting, and a little humor here and there.
What's the most distinctive thing about the main character?  Who-real or fictional-would you say the character reminds you of? 
Eli Quinn is serious about what he does, but he's also a bit of a wise-ass. He's whip smart, yet humble. A study in contrasts. A guy you'd want on your side. If pressed, I'd compare Quinn to Robert B. Parker's Spenser, but I'm not so naïve as to claim to have developed a character that expertly.
Is this the first you've written?
No. This is the 3rd novel in the Eli Quinn mystery series, plus I wrote a short prequel to the series (ebook only). And my first thriller, 5 Days to Landfall (Nov. 14, 2016) is a total departure from the detective novels.
How much time do you generally spend on your writing?
When I'm in the groove, hours go by. I can write a chapter or two a day and prefer to stay with it seven days a week. When I'm between books, sometimes days or weeks go by without any writing. My mind is always spinning plots, scenes and dialogue in the background though. Well, not always. But I try not to force the next book too much. I have two gears: fifth and neutral.
Would you go traditional if a publisher came calling?  If so, why?  
Of course. I don't have anything against traditional publishing. For me, going indie was just about convenience and impatience. Agents and publishers do wonderful things, and can't imagine turning down the chance to have my books marketed with a real budget.
Is there something in particular that motivates you?
Few things make me happier than spending time with characters, getting to know them, figuring out how they'll handle situations, learning from them, understanding and accepting their individual proclivities. I mean, I get to get inside the minds of people (and a dog, Solo the world's greatest K-9 detective) who are wholly unlike me. That's a blast.
https://indiereader.com/wp-content/uploads/2017/05/first.jpg
346
217
IR Staff
https://indiereader.com/wp-content/uploads/2016/12/ir-logo-2017.png
IR Staff
2017-05-23 09:00:28
2017-05-22 14:55:03
Robert Roy Britt on his 3rd novel in the Eli Quinn mystery series