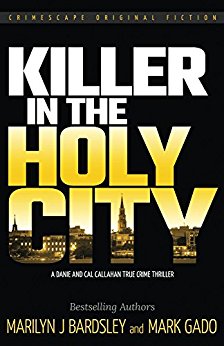 by Marilyn J Bardsley + Mark Gado
Verdict: KILLER IN THE HOLY CITY is an action-packed mystery which should appeal particularly to readers who enjoy police procedurals and true crime stories.
Danie Callahan is a forensic psychologist and profiler, and her husband Cal a medical examiner. Together, they have formed a consulting partnership, to help police departments identify and track down murderers. But when the city of Charleston, SC, is faced with a series of serial killings that bear a troubling resemblance to the Boston Strangler murders, Danie finds herself stalked, possibly even marked as the killer's next target. Can they figure out who is committing the crimes before Danie ends up as one of the corpses?
KILLER IN THE HOLY CITY  is a creepy and intriguing mystery, with a historical foundation but an entirely fictional plot that lets the author go in different directions as needed. Cal and Danie are sympathetic protagonists with backgrounds and histories of their own that explain their career choices, and a solid bond of love and respect between them. The plot has a number of entertaining twists and turns that will keep the reader guessing until nearly the end of the story, and enough suspense and action to keep the emotions engaged as well. The squeamish should be warned – this contains some graphic scenes, and the writing is vivid and descriptive enough to be powerfully disturbing.
The authors, as reader's of Bardsley's THE AMERICAN SWEENEY TODD will expect, have done their research. The historical aspects of the story are solidly and meticulously documented, with an afterword for anyone who wants more information on the Boston Strangler. Though this is a fictional mystery, it has more of a true-crime flavor to it than a detective-novel flavor, in that the point of the story is less to allow the reader to figure out whodunit from subtle clues scattered throughout than it is to show how the police go about solving crimes like these, with the solution found less by a gifted detective's intellectual deduction and more through discoveries made in the course of standard procedural work. The authors do have a tendency, especially at the beginning of the book, to overexplain the characters' feelings and personalities, rather than simply showing them through their actions and reactions, but this does not interfere too much with the energy of the plot once things get going.
KILLER IN THE HOLY CITY is an action-packed mystery which should appeal particularly to readers who enjoy police procedurals and true crime stories.movie Kong: Skull Island 2017 trailer
~Catherine Langrehr for IndieReader
https://indiereader.com/wp-content/uploads/2017/04/killer.jpg
346
224
IR Staff
https://indiereader.com/wp-content/uploads/2016/12/ir-logo-2017.png
IR Staff
2017-04-28 10:19:15
2017-05-09 21:49:16
KILLER IN THE HOLY CITY