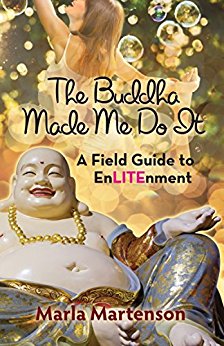 The Buddha Made Me Do It; A Field Guide To EnLITENment received a 4+ star review, making it an IndieReader Approved title.
Following find an interview with author Marla Martenson.
What is the name of the book and when was it published?
The Buddha Made Me Do It; A Field Guide To EnLITENment. Published May 26, 2016
What's the book's first line? 
I wasn't exactly lost that day in early October, but when Buddha kind of accidentally (or maybe on purpose) helped me get somewhere, my life opened up like a dusty box of priceless jewelry.
What's the book about? Give us the "pitch."
Like any self-respecting New Age Angelino, Marla works out religiously, imbibes green juice, practices yoga, is vegan, recites affirmations, and employs the Law of Attraction to help manifest her dreams.
Yet a frantic search for a discarded Buddha statuette that her adoring husband suddenly can't live without sends Marla through the door of The Imagine Center and into a spiritual sojourn that changes everything. Drawn by mystical energy, she convinces her willing but skeptical friend Julie to join her in some classes on attracting abundance. Soon the charismatic Goddess Tauheedah schools them in all things mystical.
Marla's frustration in matchmaking persnickety multi-millionaires pushes her to delve deeper into her spiritual practice, but at what cost? Her practical hubby asks, "Have you lost your mind? Are you hearing voices? Angels aren't real, come on!"
Marla's alternating universes are giving her spiritual whiplash. Can she continue to straddle both worlds and remain true to herself?
What inspired you to write the book?
My friend Julie, a celebrity ghost-writer gave me the idea. Julie and I dove head first into a two- year accelerated spiritual sojourn together, and some of the adventures we had were just too good not to share. Julie was originally going to write the book with me, but she was just too busy with other projects, so I went ahead on my own, but she gave me the red light to use her stories in the book.
What's the main reason someone should really read this book? Great entertainment while simultaneously contemplating the mysteries of existence.
If they made your book into a movie, who would you like to see play the main character(s)?
I would love Drew Barrymore to play me, and Amy Schumer to play my BFF, Julie.
When did you first decide to become an author? I decided to become an author at age 8. A dedicated bookworm, I began filling notebooks with poetry and short stories that I shared with my family. My grandmother was especially supportive and was astonished at how fast I could write a poem. I wrote fan letters to my favorite authors, Beverly Cleary and Eleanor Estes and let them know that I planned to be just like them when I grew up.
Is this the first you've written?
The Buddha Made Me Do It is my fifth book.
What do you do for work when you're not writing?
I'm an entrepreneur. I own a boutique matchmaking service for affluent single men. I am also a Reiki master and crystal healer.
How much time do you generally spend on your writing?
It varies. Because I own a business and have a lot of other things going on in my life, I just grab spare moments when I can. It usually takes me about a year to write a book.
What's the best and the hardest part of being an indie?  
The best part of being an indie is to be able to call all of the creative shots, such as deciding on the cover, and also owning all of the rights and the ability to do whatever I want with the book.  The hardest part is not being able to afford a publicist, have the book placed into the big stores, and also getting foreign rights deals.
Would you go traditional if a publisher came calling?  If so, why?
It would depend who and what kind of deal they were offering. I had traditional deals for my first three books. I'm enjoying the indie experience at this time.
Is there something in particular that motivates you (fame? fortune? more sex?)
I've always loved writing. I'm a creative person, so my motivation comes knowing that at the end of the tunnel, I'll have an amazing literary work in my hands that came to be because of my hard work and patience. Since I write memoir, I'm capturing memories, good and bad, that I will always have to look back and read. I also love it when someone emails me and lets me know how much they loved one of my books or that it had a positive impact on their life.
Which writer, living or dead, do you most admire?
There are so many. I do love Rohinton Mistry, his novel, A Fine Balance, was brilliant.
https://indiereader.com/wp-content/uploads/2017/03/the-buddha.jpg
346
224
Guest Author
https://indiereader.com/wp-content/uploads/2016/12/ir-logo-2017.png
Guest Author
2017-03-28 11:17:42
2017-03-28 11:17:42
Marla Martenson on the best part of being an indie + what she does when she's not writing