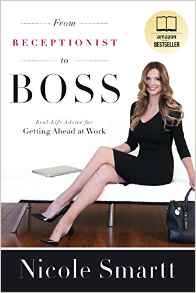 From Receptionist to Boss received a 4+ star review, making it an IndieReader Approved title.
Following find an interview with author Nicole Smartt.
What is the name of the book and when was it published? 
The name of the book is From Receptionist to Boss:  Real-Life Advice for Getting Ahead at Work.  This book was published July 28, 2016.
What's the book's first line? 

"I may have been born Smartt (that's my last name), but I wasn't born lucky or rich.  My parents were not wealthy or famous.  As a family, we were comfortable.  I took horse-back riding lessons every Saturday, and one year, my dad invested in my sports career by sending me to basketball camp.  After horseback-riding lessons, I would go to work with my dad, helping him in the warehouse by cleaning or stocking items while he worked."
What's the book about? Give us the "pitch". 

Are you just getting started in your career?  Do you need motivation and courage to overcome obstacles in your path?  Look no further:  this book is your blueprint for getting ahead in your career.  Inside you'll find the practical advice you need to guide you.  Having advanced from receptionist to business owner in less than seven years, author Nicole Smartt offers a goldmine of information to anyone wanting to become extraordinarily successful in their career.  Read the book, defeat the odds, learn the lessons, and follow in the footsteps of a real-life success story.
What inspired you to write the book? A particular person? An event? 

I decided to share my story when I realized that in doing so, I could help young workers advance their careers. My own experience of moving up the ladder quickly, plus the benefit of working with many employers taught me the characteristics and skill sets most valuable in the workplace. A sensible and concise book, I expect it will offer readers some of the tools they need to jump-start their careers. The takeaway I foresee is guidance and inspiration that encourages readers to overcome the odds they face, helps them become the extraordinary people they can be, and propels their careers forward, in whatever jobs or industries they choose.
What's the main reason someone should really read this book? 

In my book From Receptionist to Boss: Real-Life Advice for Getting Ahead at Work, I use my rapid career progression as a backdrop for illustrating how other young professionals can improve their own prospects. In the ten chapters, readers learn how to set goals, work hard, stay focused, and use mentors along the way to further their careers.
People should read this book if they want to feel inspired and motivated at work as well as learning the ten steps to achieve more success at work.

https://indiereader.com/wp-content/uploads/2017/02/from-receptionist.jpg
293
196
Guest Author
https://indiereader.com/wp-content/uploads/2016/12/ir-logo-2017.png
Guest Author
2017-02-14 09:42:48
2017-02-14 21:28:16
Nicole Smartt on setting goals, working hard, staying focused + using mentors to further a career