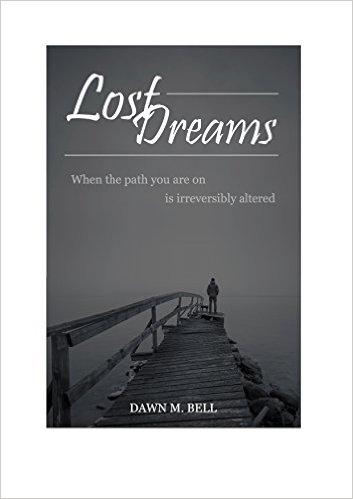 Verdict: The altruistic intent behind Dawn M. Bell's anthology LOST DREAMS elevates short stories about jarring absence into lessons about the abundance of hope inherent in loss.
LOST DREAMS is a short story collection about life after loss. These twenty-three micro-memoirs, all by different authors, were submitted to the author in response to the chord struck by her 2014 book about grief: Wife of the Deceased. At the beginning of each chapter, we meet a new individual who has lost something and how long it's been since their loss. From parents of the murdered to murderers themselves, these tales cover both sides of the cruel coin flip of life's sudden and unexpected changes that will never be totally reversed. Although mostly Christian in their approach to dealing with grief through faith, these authors exhibit bravery and a candidness often buried beneath the weighty narration, character development, and extraneous detail found in many full-length memoirs.
Chosen from open-submissions in a contest-like solicitation process by Bell, inclusion into the collection was based solely on the content within each story. The upside of this unification in theme is the diversity of what was lost. Death, as expected, figures prominently from pets to partners to patients. This approach also leaves room for more nuanced kinds of grief resulting from losses of dreams, years, balance, diet, and imagined futures. The downside of focusing so intently on content means the aesthetics and tone of the collection are given less attention. The mood of the collection bolts from somber to ironic without warning. The writing levels of the essayists is equally unpredictable and their sharing occasionally suffers from straightforward shortcomings like lapses in verb tense.
Ultimately, the picture that emerges from these stories of what people no longer have is a sense that humans are collectively better off giving each other the benefit of the doubt. These writers prove the multitudes amidst the complexity of each human life are irreversibly reconfigured during great times of loss. Grieving over these gargantuan subtractions is a new mathematical equation each time and, with the Bell as the instructor, these individuals have provided context to help in our collective quest to discover the missing variables and bring life's equation back into equilibrium.
~Alex Michael Dwyer for IndieReader
https://indiereader.com/wp-content/uploads/2016/11/lost-1.jpg
499
353
IR Staff
https://indiereader.com/wp-content/uploads/2016/12/ir-logo-2017.png
IR Staff
2017-02-08 09:00:21
2017-02-07 10:37:32
LOST DREAMS, a short story collection about life after loss