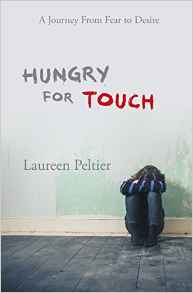 Hungry For Touch: A Journey from Fear to Desire received a 4+ star review, making it an IndieReader Approved title.
Following find an interview with author Laureen Peltier.
What is the name of the book and when was it published?
Hungry For Touch: A Journey from Fear to Desire, published March 2016
What's the book's first line? 

I'm not hearing voices; at least not at the moment.
What's the book about? Give us the "pitch". 

Hungry For Touch is an intimate detailing of a woman's therapeutic journey to overcome her fear of men. At the age of 38 – Laureen wouldn't allow anyone to touch her, hadn't been kissed and never had sex. While in the psychiatric hospital, she meets a male psychiatrist who has developed a new method of therapy for treating trauma. To have the life she wants, she must battle demons from her past, reconcile memories long buried and learn to trust the one man who knows the way out of her madness.
What inspired you to write the book? A particular person? An event? 

When I decided to go into therapy, I searched for a book that would help me to understand what therapy and healing from childhood trauma would look like. But all I found were dozens of books detailing people's abuse. What was worse was that people were taking decades to heal and not doing a very good job of it.
I wrote Hungry For Touch to help people understand that you can heal your past – no matter how traumatic. You can have the life you want from pain and sorrow. I also wrote it for the medical professionals. This book shows the therapy process with a new model. I want to change the old model of 45-minutes talk sessions. There is so much more to healing that cannot fit into a pre-defined mold set by the insurance companies.
What's the main reason someone should really read this book? 

Whether you have trauma in your past or you know someone with trauma in their past, this book puts the reader into the mind of someone who is struggling to understand how the past (no matter how forgotten) can impact the future.
https://indiereader.com/wp-content/uploads/2016/12/hungry.jpg
293
193
Guest Author
https://indiereader.com/wp-content/uploads/2016/12/ir-logo-2017.png
Guest Author
2016-12-01 08:50:56
2016-12-02 10:22:47
Laureen Peltier on being able to heal your past – no matter how traumatic