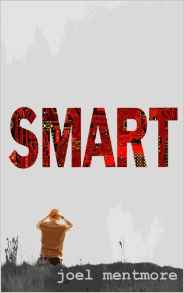 SMART received a 4+ star review, making it an IndieReader Approved title.
Following find an interview with author Joel Mentmore.
What is the name of the book and when was it published?
SMART was published on 26th February 2016
What's the book's first line? 

The message was a string of data streamed across the rooftops from the Tea Building base-station on Shoreditch High Street.
What's the book about? Give us the "pitch". 

Lucy runs Jon's life. With her help Jon has found wealth, health, even love.  So when Lucy tells Jon he must die, he naturally turns to his oldest friend Skull for help, because Skull is a technical genius, and Lucy is a smartphone.  But Skull has his own problems. His connected-car startup has gone bust and he's losing everything. Besides, he doesn't believe Jon. Then Jon goes missing. The arrival of Jon's enigmatic sister Jac, draws Skull into investigating his friend's disappearance, even while his own life spirals out of control. As the search for Jon deepens, Skull begins to question who really is behind Jon's disappearance. Is it the violent criminals Skull runs into, or the corporate henchmen following him around London?  Or is it Lucy?  The answer will have momentous consequences for Jon, Skull, and everyone they encounter.
What inspired you to write the book? A particular person? An event? 

I was visiting the Early European History section of the British Museum (oldest and best museum in the world), when my smartphone died.  There I was, standing among all these old flint arrows and axe heads, all these simple, robust tools, and me with this complex, connected, dead device in my hand. Worse, I was due to meet friends later at an address I no longer had, and now without the means to quickly contact them; even if I could, I wouldn't know how to get to where we were supposed to meet. I was struck then by the dependency we have on our smart technology, and how vulnerable we are to the threat of their relentless logic.  Seemed like a good idea for a book.
What's the main reason someone should really read this book? 

There's a current debate among scientists and technologists (Stephen Hawking, Elon Musk, Steve Wozniak most prominently perhaps) regarding the existential threat to humanity posed by Artificial Intelligence and the robots of the future.   Of course the technologies we have today are already smart enough to kill us but the debate usefully highlights a more subtle apocalypse than sudden, violent extinction, raising questions about how we make ourselves vulnerable to the tools we create. SMART hooks into this very contemporary debate, exploring how and why we shape our modern tools, and the power they have to shape and constrain us in return.
https://indiereader.com/wp-content/uploads/2016/12/smart.jpg
293
184
Guest Author
https://indiereader.com/wp-content/uploads/2016/12/ir-logo-2017.png
Guest Author
2016-12-22 08:53:03
2016-12-22 08:53:03
Joel Mentmore on finding inspiration in the Early European History section of the British Museum when his smartphone died