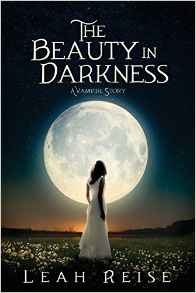 Verdict: Reise delivers a horror filled with satisfying moments of drama and suspense, as well as a sisterly bond that elevates the story to another level, but the narrative structure lacks a balanced perspective.
When picking up THE BEAUTY IN DARKNESS, by Leah Reise, one expects a thrilling, spine-tingling tale of seduction and gore. In this, readers are not disappointed. Reise tackles tough scenes—the murder and rape of her protagonist, newly turned vampire Edrea; the kidnapping of her younger sister, Rena—with a gritty realism. She paints Edrea's unfamiliar world in shadow and darkness, with scenes set in dark alleyways and dangerous clubs, where mortals and immortals engage in sensuous dancing and bloodsucking.
Against this backdrop, the novel jumps between the stories of Edrea—special even among vampires thanks to her mind-reading abilities—and Rena, who decides to track Edrea down when she's discovered missing. This narrative switch gives readers insight into both sisters' lives and feelings, and shows the ways they both feel the bond that connects them. The relationship that Reise crafts between Edrea and Rena is believable and real: it's marred by guilt and misunderstandings, but ultimately it's one filled with unbreakable, unconditional sisterly love.
Yet, the dual narration in THE BEAUTY IN DARKNESS also fails at times: whereas Edrea tells her own story in the first person, Rena's is relegated to a third-person narrator and, consequently, comes across as less important. Ironically, Rena's chapters are the better written, with continual movement and a sense of purpose as she embarks on her quest. Edrea's portions, on the other hand, often feel over-explained, with every thought and emotion constantly spelled out for the reader instead of just depicted through the character's actions.
The first half of the novel moves languidly, with Edrea mostly questioning her circumstances and learning about the two feuding vampire clans while Rena builds up her courage to go after her sister. In the second half, the story picks up its pace: Rena is kidnapped and Edrea must piece together a way to save her and trust in several relationships she's only just formed, such as with Alexio, an oozing-with-sexiness vampire whose main purpose is to serve as Edrea's protector and lover. But their relationship feels unbelievable, too fast in an already confusing time for Edrea.
Despite several flaws in structure and characterization, THE BEAUTY IN DARKNESS redeems itself with the truth found in the relationship between the two sisters, a sanctuary from the darkness that surrounds them and a glimpse of the beauty that we find in trust, in acceptance, in each other.
~Christina Doka for IndieReader
https://indiereader.com/wp-content/uploads/2016/11/the-beauty.jpg
293
196
IR Staff
https://indiereader.com/wp-content/uploads/2016/12/ir-logo-2017.png
IR Staff
2016-11-21 09:00:31
2016-11-03 14:27:08
Be prepared for blood and betrayal galore in THE BEAUTY IN DARKNESS