This year marks the 50th anniversary of S.E. Hinton's groundbreaking novel The Outsiders, a classic that–five decades ago–pushed the boundaries of young adult fiction.
Published in 1967 by Viking Press, The Outsiders was unique for focusing on issues of class and gang violence, underage smoking and drinking, strong language and family dysfunction, highlighting matters that had previously been ignored by more "wholesome" YA-oriented books.
Perhaps some of its immediacy was due to the fact that the author wrote the book when she herself was still a teen. Hinton was just 15 when she started writing the novel and finished the following the year when she was a junior in high school.
Despite having revolutionized the YA genre at the time of its publication, it's still tough to find titles–trad or indie pubbed–that fill the same niche of average, alienated teens struggling to survive in society (who isn't a vampire or other supernatural being who doesn't live in an apocalyptic dystopia and/or fantasy world).
We've gathered five indie titles below that we think fit the bill.
Orphan in America by Nanette L. Avery
It's a piece of historical fiction set in the 1800s, but that doesn't mean Orphan in America won't sit well with fans of Hinton's '60s classic.
This book grapples with intense issues of class, as young, impoverished Alex is separated from his parents, living in the slums of New York. Like thousands of other children who were transported from overcrowded cities on the Eastern Seaboard during the mid-1800s, Alex is removed from a life of poverty, put on the Orphan Train, and sent to start a new life in America's heartland. But despite the best intentions of a project meant to improve children's lives, Alex's world is forever changed as he is snatched away from his loving yet impoverished parents.
Avery's expressive language and fully realized staging enrich this literary work with an authenticity that brings the saga to life. Unforgettable characters engage readers in a quest to discover more details about the mysterious threads of this fictional tapestry.
Flat-Out Celeste by Jessica Park
Who says misfits and outcasts can't enjoy a little romance?
For high-school senior Celeste Watkins, the book's eponymous protagonist, each day is a struggle with alienation: she's too smart and has too eccentric a way of speaking, so she's built up a barrier that makes it difficult for her to make friends.
While Flat-Out Celeste doesn't contain the heavy societal themes The Outsiders is known for, it does include the same angst and inner turmoil that comes from trying to find ones place in the world, as well as being a story about first love.
This is the third book in the Flat-Out series; if you like it, explore Celeste's backstory in the previous two books!
Courage: A Story of Love and Friendship by Disko Praphanchith
Courage is a heartrending story of social standing and alienation, this time seen through the eyes of growing up in America in a minority.
Jenny Park is a Korean-American, struggling with familial expectations and stereotypes. Daniel Fischer is a white student whose advanced intelligence stands in the way of his relating with others. Both friends' life paths diverge drastically: Jenny is fated to live an unsatisfying life while Daniel becomes a millionaire intellectual.
Daniel's published essays are featured throughout the book, examining society and the media through a deeply philosophical lens outside the main narrative. Heartrending and deep, Courage infuses an emotional rawness in examining human individuality where personal identity is repressed.
Not So Easy by Sherry Gammon
JD Miller has a tough life: as an outcast, he's constantly bullied by his peers. Meanwhile, Max Sanchez, star of the high school baseball team, is ever popular and seems to have it all. But after a tragic accident shakes things up, Not So Easy becomes a story of struggle and companionship, rather than simply one of conflict between the bullied and the popular.
Not So Easy is a visceral story of the effects of bullying and how one person can make all the difference to a victim, making it a valuable read for parents, teachers and students.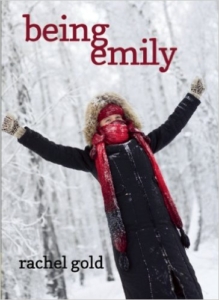 Being Emily by Rachel Gold
The Outsiders is well-known for having revolutionized young adult fiction, but Being Emily is a book that should appeal just as much to adults as teens.
The story follows a transgirl who was born a boy named Christopher. Living in small-town Minnesota, Emily keeps her true self a secret; her family insists the "Emily" persona is abnormal, and her therapist reaffirms this stance. Thanks to a chance encounter with a new therapist, Emily is able to transition into a body that reflects her identity.
Being Emily is a powerful read, helping to portray the systemic oppression and prejudice that this group of people faces.