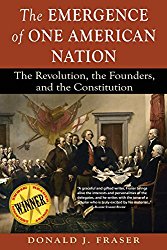 The Emergence of One American Nation received a 4+ star review, making it an IndieReader Approved title.
Following find an interview with author Don Fraser.
What is the name of the book and when was it published?
The book is entitled The Emergence of One American Nation: the Revolution, the Founders and the Constitution.
 What's the book's first line? 

"We the people"…the most important words in the Constitution.
What's the book about? Give us the "pitch". 

It is a work of history that answers a very basic question: why are we one nation, and not many? As I demonstrate in the book, the founding generation was as divided as we are today.  Yet they found a way to resolve problems and compromise with one another in order to merge us into one great nation. The book is an appeal to all of us to find ways to do the same for the greater good. As I write in the introduction:
As such, the book is an appeal to all Americans that we are one people, despite the divisions that exist in modern society. Disagreement is a part of what makes us Americans, and it is as old as the republic itself. Perhaps it will help all of us to be reminded that the founders of our nation also had great differences of opinion, and yet they found a way to reach principled compromise and knit us into one coherent nation.
What inspired you to write the book? A particular person? An event? 

In part this was a product of a crisis in my career. The state of California had decided to end the use of redevelopment as a tool to revitalize communities. It is the field in which I have spent the last 25 years working, and I was looking for a new challenge. I have always enjoyed writing, dating back to when I was the editor of my high school newspaper. I have also been told that the reports I had written during my career were usually clear and straightforward. I have a life-long interest in history, politics and government, and hold a bachelor's degree in political science and a master's degree in public policy and administration.
What's the main reason someone should really read this book? 

First, I think it is a good read. I have received numerous comments that the book is very readable. Here are a couple of examples:
[The book is] easily and readily understandable, with a fantastic layout of subjects that makes flicking to a particular point of interest a breeze. It seems like basic praise until you see exactly how masterfully the book has been crafted. — Self Publishing Review 4 stars     
A graceful and gifted writer, Fraser brings alive the interests and personalities of the delegates (his treatment of James Madison is as three-dimensional as any readers are likely to find), and he writes with the tone of a scholar who is truly excited by his material. ––blueink Starred Review
Second, it provides a significant amount of information about the founding of our nation, and the men that formed it, both those that are well known and those less well known. And finally, it is really relevant to the times we live, when we must once again find ways to compromise for the greater good.
https://indiereader.com/wp-content/uploads/2016/10/the-emergence.jpg
250
167
Guest Author
https://indiereader.com/wp-content/uploads/2016/12/ir-logo-2017.png
Guest Author
2016-10-11 08:00:26
2016-10-11 08:23:09
Don Fraser on how the founding generation of America was as divided as we are today