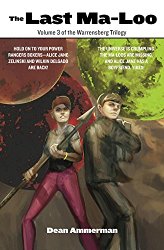 Verdict:
Alice Jane Zelinski and Wilkin Delgado are residents of Warrensberg, Minnesota, the most important place in the universe. Veterans of various intergalactic adventures, they are called upon once again to protect all of space and time. Creatures called Ma-Loos are suddenly quite scarce, which is a problem because Ma-Loos are vital to maintaining the integrity of the structure of the multiverse, and without them, the cosmos would collapse in on itself. To figure out what happened to these elusive animals, Alice Jane and Wilkin enlist the help of some key friends, like a tracking puffin, an intergalactic plumber, and intergalactic electrician, hundreds of tiny alien larvae, and Alice Jane's new boyfriend.
Dean Ammerman's THE LAST MA-LOO is the kind of sublimely silly sci-fi comedy where the rules might not be too clear (the structure of the cosmos is at once point compared to a tube of Pringles), but even if the story doesn't always make sense, the gags always land.  THE LAST MA-LOO is fairly good at the art of weirdness for weirdness' sake, with a sensibility probably culled from the works of Douglas Adams and Rick and Morty.
Though not really a character-driven book, Alice Jane stands far above the others. She is a perfect mix of teenage pettiness and heroic sacrifice, a girl who seems to sneer at all the people she's saving. When preparing for near certain death, she changes into her Lululemon yoga pants, "because they're comfy and pink and I look amazing." When summing up her philosophy, she says, "'I observe the teachings of Shaolin Kung Fu.' (Sort of.) 'I walk the path of peace and enlightenment.' (When I feel like it.)  'All life is holy.' (Especially mine, I should have added.)"
Full of clever dialogue and over-the-top silliness, THE LAST MA-LOO is one of those sci-fi comedies that works better as the latter than the former. An entertaining read—full of cosmic mirth and celestial absurdity—it's a weird little delight for young adults of all ages.
Funny, weird, delightful; an unforgettably eccentric romp through the multiverse.
~ Chaz Baker for IndieReader

https://indiereader.com/wp-content/uploads/2016/09/the-last.jpg
250
164
IR Staff
https://indiereader.com/wp-content/uploads/2016/12/ir-logo-2017.png
IR Staff
2016-09-21 09:00:56
2016-09-19 11:56:17
THE LAST MA-LOO, an offbeat cosmic adventure