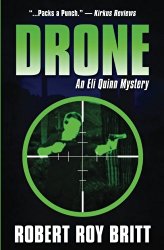 Verdict: Fast-paced with a few thought-provoking twists, DRONE is reminiscent of a noir detective story with a 21st century flair.
Fledgling detective Eli Quinn investigates an assassination attempt on a prominent Arizona politician in this engaging new installment in Robert Roy Britt's mystery series.
Most detectives take up residence in a gritty urban setting where the gloom is just as overpowering as the skyscrapers. Not true for Eli Quinn, who has instead put down roots in Pleasant, Arizona, a desert town replete with sun and miles of open sky. The setting is so pervasive in Quinn's own sarcastic description—mentions of old Western architecture, a famed cactus named "Ringo," and desert vistas are a few highlights—that it lends a unique personality to the narrative. Paired with a central conflict that invokes the use of some controversial 21st century technology, Britt crafts a quirky and unexpectedly entertaining mystery in a short amount of pages.
After a noted politician is attacked by a drone wired with explosives, Quinn takes the case for a mere $1 fee. It's a running joke from the previous installment which is explained within the dialogue for readers who are just tuning into the series. He's an everyman sort of detective who sometimes gives tongue-in-cheek quips about his burgeoning skills. These references become a little campy, but it's a quirk that's easily forgiven. Quinn also forgoes the use of guns in favor of physical combat due to his knowledge of martial arts—definitely a breath of fresh air from the trigger-happy private eye types.
There's a sense that sometimes Quinn is making things up as he goes but the direction always seems to be somewhat right on track. It's the perfect way to endear him to the audience. He has a few trusted friends to help out—namely, his German Shepherd sidekick Solo and Samantha Marcos, a level-headed, diligent journalist. They are a fun crew of outcasts; Britt's ear for realistic dialogue provides banter for Sam and Quinn that is borderline flirtatious and at times heartfelt. An extended cast of memorable side characters who all seem to know each other evokes a comfortable small town feeling. It's all the more jarring to see such a vibrant community rocked by violence.
Since their introduction, drones have been labeled as both ingenious and terrifying. Each side is on display in Britt's novel, offering glimpses of how incredible and dangerous the technology can be. Once Quinn delves into the case, questions of immigration and immigration reform become a key focus. In the current political climate, DRONE feels especially relevant.
Fast-paced with a few thought-provoking twists, DRONE is reminiscent of a noir detective story with a 21st century flair.
~Reviewed by Jessica Thomas for IndieReader.
https://indiereader.com/wp-content/uploads/2016/09/drone.jpg
250
164
IR Staff
https://indiereader.com/wp-content/uploads/2016/12/ir-logo-2017.png
IR Staff
2016-09-12 09:00:43
2016-11-07 13:34:28
DRONE, a fast-faced detective story with some thought-provoking twists