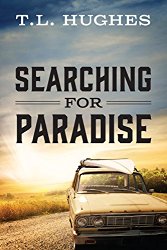 Verdict: Beautifully written and engagingly presented, SEARCHING FOR PARADISE is a road trip worth taking.
When life becomes too routine, dreams aren't coming true, and restlessness sets in, the only choice for three friends is to get in the car and make their way back to their familial roots.
In the early 1980s, Mike Hogan escaped the life he knew growing up in a blue-collar Catholic household in Massachusetts and made a dash for the golden coast of Southern California. The friends he made while pursuing his dream of a career in the video music industry all seemed to have made similar moves, especially Lucas and Declan. But, a few years later, when Mike's dreams start to fade, including a relationship with the quintessential California beauty, Collette, he and his buddies quit their 8-to-5 jobs and take to the open highway in Lucas' '64 Ford Fairlane, blaring pop tunes from the radio—songs that define the friends' lives and that inspire them to move on to a more bohemian existence á la Jack Kerouac's On the Road. In his largely autobiographical first novel, SEARCHING FOR PARADISE, author T.L. Hughes takes readers on a road trip that starts in Los Angeles and winds up on the East Coast. Along the way, Mike, Lucas, and Declan reunite with old friends and family members, eating their food, crashing on their couches, and coming to terms with the relationships they've had and the places they've lived as the soundtrack of their lives—and what makes them who they are.
Hughes' writes as one looking out the window of a car making its way across the changing landscape of the United States. His highly visual descriptions of the cities, towns, and open country the three young men encounter keeps the pace of the novel steady without rushing the reader. The side trips give the narrator, Mike, the opportunity to explain his background, hopes, dreams, and (current) understanding of life's realities. As the open road takes its turns and twists, much like life itself, the author takes the reader on a journey, one that he writes like a life in rewind mode—introspective and hopeful for a new beginning.
Beautifully written and engagingly presented, SEARCHING FOR PARADISE is a road trip where the characters drive back to their roots in search of where they came from, but seek to transcend their past lives in search of something more exciting, more attainable, yet more liberating.
~Kathleen Samuelson for IndieReader.
https://indiereader.com/wp-content/uploads/2016/09/searching.jpg
250
167
IR Staff
https://indiereader.com/wp-content/uploads/2016/12/ir-logo-2017.png
IR Staff
2016-09-07 09:00:43
2016-09-02 11:54:41
Beautifully written and engagingly presented, SEARCHING FOR PARADISE is a road trip worth taking