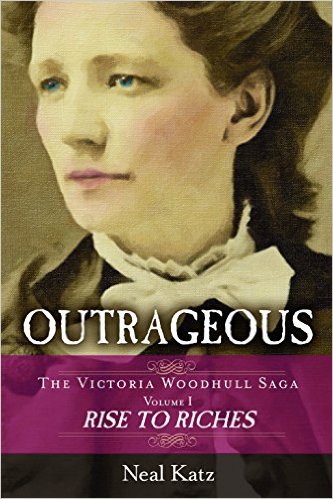 Verdict: An enthralling page-turner, OUTRAGEOUS is one story demonstrating "that anyone can accomplish anything, if the desire is strong enough."
The lives of two clairvoyant sisters make a drastic shift into the world of wealth when they befriend one of the richest men in the nation.
A victim of incest, young Victoria is met by her guardian angel who foretells a future of power and wealth. Out of all her siblings, Victoria feels a close bond to her younger sister Tennessee since the sisters share similar clairvoyant abilities. Although promising that they'll stay together, Victoria frequently deserts Tennessee because of various situations. It is not until years later when Victoria moves to New York City that her sister moves in with her. Together they develop a close relationship with Cornelius Vanderbilt, the richest man of the 19th Century. An All Hallows' Eve dinner gathering turns into a lucrative moment when Victoria asks for Cornelius' help not only starting an account for the sisters, but also develop their investments. The end result produces the creation of Victoria and Tennessee's brokerage firm:  Woodhull, Claflin, & Co.
Katz' historical fiction debut offers a realistic account on one of the most controversial women during the time of women's suffrage. Written in first person and in what he coins "herstorical fiction," Katz's story reflects "the world from a woman's perspective" and specifically according to heroine Victoria Claflin Woodhull. "Based on historical characters and events" during 1847-1870, the underlying purpose for writing this profound work "is to make Victoria and her younger sister, Tennessee Celeste Claflin, iconic figures of women everywhere; to look up to and embrace as examples of overcoming adversities, female empowerment, and achieving excellence." Volume One of The Victoria Woodhull Saga closes at the point where Victoria announces her candidacy for President of the United States.
An enthralling page-turner, OUTRAGEOUS is one story demonstrating "that anyone can accomplish anything, if the desire is strong enough."
~IndieReader
https://indiereader.com/wp-content/uploads/2016/06/Outrageous5.jpg
499
333
IR Staff
https://indiereader.com/wp-content/uploads/2016/12/ir-logo-2017.png
IR Staff
2016-06-11 02:00:12
2016-07-05 08:18:04
Meager beginnings turn into great wealth for sisters in: OUTRAGEOUS