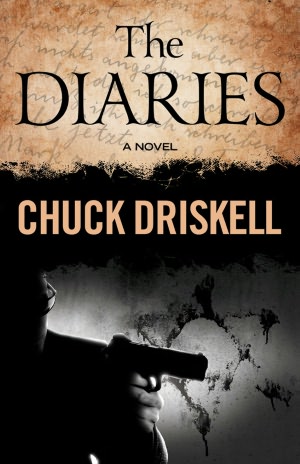 THE DIARIES came in third in the fiction category of the 2016 IndieReader Discovery Awards, where undiscovered talent meets people with the power to make a difference.
Following find an interview with author Chuck Driskell.
What is the name of the book and when was it published?
The book is called THE DIARIES – A Gage Hartline Thriller (#1).  It was first published in 2012 and is the first in the Gage Hartline series.
What's the book's first line?
The flight attendant pressed through the throng of people, yelling to those yet to be seated that there was no more space in the overhead compartments.
What's the book about?  Give us the pitch?
THE DIARIES centers around a man named Gage Hartline.  He's an ex-Green Beret suffering with PTSD, living in Germany and performing non-violent, low-level espionage work.  On a routine job, he discovers a cache of diaries he soon learns out belonged to Adolf Hitler's unwilling lover.  Unbeknownst to Hitler, the unwilling lover was secretly Jewish.  Gage attempts to keep the diaries a secret, but soon finds himself pursued by the French mob, who are well aware of the diaries' worth (and blissfully unaware of Gage's special operations background.)  Because of Gage's mental condition, he has no desire for violence.  But when the French mobsters brutally murder Gage's girlfriend, he unleashes hell's fury in return.  Combining crime, revenge and international intrigue, THE DIARIES is a classic espionage thriller.
What inspired yoiu to write the book?
I lived in Germany during my time in the Army and was visiting on vacation in 2010 when I noticed a small brass plaque on the sidewalk.  It's called a "Stolpersteine" which translates as "stumble stone."  These stones were added as part of a national project in the late 1990s.  Translated, the stone I first saw described the Jewish family that had once lived in the adjacent home.  It told of their incarceration and subsequent death in the Holocaust.  I was speechless.  I began walking and found these stones everywhere.  Each one made me think of the family that was ripped from their home, and each other.  From the simple reminder of horrific events, the seed for my story bloomed.  Each time I return to Germany, I cannot help but stop and read each "Stolpersteine" I see.  I'll never grow numb to them.
What's the most distinctive thing about the main character?  Who real or fictional would you say the character reminds you of?
Though Gage is a certifiable badass, he's incredibly empathetic and has a powerful connection to the world's underdogs.  Gage wants to do good and has an extreme moral compass.  And unlike most of us, he will not hesitate to right a wrong when he sees one.  If I could cast an actor to play Gage, it would be Hugh Jackman.  Hugh is a strapping, powerful man…but his aura is one of kindness and empathy.  And I'm certain he could nail an American accent…
What's the main reason someone should read this book?
I write books to entertain readers.  Sure, they might learn something and may get the gist of the book's overall message.  But first and foremost, they should read my books to be entertained.  My books are sometimes violent and often sexy.  I do my best to flesh out characters who are interesting and compelling, set in places that are memorable.  THE DIARIES combines memorable characters, tantalizing diary entries and an international setting to take the reader on a journey that will hopefully compel them to keep reading the Gage Hartline series.
https://indiereader.com/wp-content/uploads/2012/06/the-diaries-big.jpg
464
300
Guest Author
https://indiereader.com/wp-content/uploads/2016/12/ir-logo-2017.png
Guest Author
2016-06-16 09:32:41
2016-06-17 10:07:15
Chuck Driskell on his IRDA Winning "The Diaries"