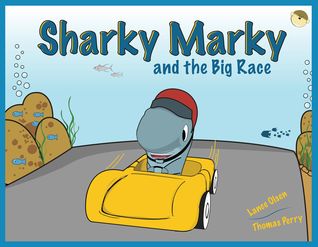 by Lance Olsen and Thomas Perry
Verdict: SHARKY MARKY'S BIG RACE is cause for a count down to cheers.
It's a countdown to the finish line, but the winner is NOT the one who cheats in this children's story about playing by the rules.
Sharky Marky is in a race with other sea creatures. Meanie Marlin and Octo Eddy sabotage Sharky Marky's vehicle to get ahead, but they discover that playing dirty is not the way to win. Let the countdown begin as Sharky Marky zooms through the undersea track to the finish line and shows the bad sports that only following the rules will let you win.
Themes of counting down and playing by the rules are gently interwoven into a story of an underwater car race. Rather than evocative language, the word choice is sometimes mundane, seemingly driven by the rhyming scheme:
"Meanie Marlin bumps Mark's rim.
Say "2" real loud and watch Marky fly right by him!"
Though the word choice and rhyme scheme sometimes makes for an erratic flow, the repetition of the countdown effectively leads up to the "photo finish" that is a positive and uplifting culmination to the race.
This bright sturdy bound very young children's picture book has full-page illustrations that can be simplistic and lack of depth due to minimal shading and detail. However, illustrations, such as Starfish Stuckey's whirring arms performing repairs at the pit stop and the angular crop of Sharky Marky pushing past the other racers do convey a sense of the excitement and movement of the race. Besides the main, loveable-looking Sharky Marky, other cute creatures, such as Peter the Puffer fish and the ducks and beaver with their underwater helmet fill up the image space of the race track along the ocean bed. Some images, like Meanie Marlin's scowl as he deflates Sharky Marky's tire, also effectively convey the emotions of the characters which, combined with the countdown, adds to the atmosphere of cheering and jeering for the good and bad guys respectively.
Sharky Marky makes its point about playing fair without overstated preachiness about good behavior but simply through the winner's fanfare. The fact that the story is about the sea creatures allows makes this an appropriate book for both boys and girls, encouraging discussion about good behavior.
SHARKY MARKY'S BIG RACE is cause for a count down to cheers.
~IndieReader.
https://indiereader.com/wp-content/uploads/2015/09/BigRace.jpg
247
318
IR Staff
https://indiereader.com/wp-content/uploads/2016/12/ir-logo-2017.png
IR Staff
2015-09-28 02:00:16
2015-09-08 12:16:57
Cheers for playing fair in: SHARKY MARKY AND THE BIG RACE