If you've been living under a rock lo these past few weeks, you may not be aware that EL James released a companion of sorts to her 50 Shades saga, Grey, as told from Christian's point of view.
And if you've been away for a few years and aren't familiar with the character–from the books or the more recent movie–we will tell you that Christian Grey exercises control in all things.  His world is neat, disciplined, and utterly empty—until the day that Anastasia Steele falls into his office, in a tangle of shapely limbs and tumbling brown hair. He tries to forget her, but instead is swept up in a storm of emotion he cannot comprehend and cannot resist. Unlike any woman he has known before, shy, unworldly Ana seems to see right through him—past the business prodigy and the penthouse lifestyle to Christian's cold, wounded heart.
Will being with Ana dispel the horrors of his childhood that haunt Christian every night? Or will his dark sexual desires, his compulsion to control, and the self-loathing that fills his soul drive this girl away and destroy the fragile hope she offers him?
Can't get enough Christian? Jump into bed with these five erotic indies:
The Arrangement 19 (The Ferro Family) by H.M. Ward
Volume 19 in The New York Times Bestselling Arrangement Serials starts with broken billionaire Sean Ferro finally dropping his guard and opening his heart to Avery, the woman he loves.
And then the unimaginable happens as one event cascades into another, until Avery is standing at the shore with blood on her hands, betraying the man she swore to love forever.
Love this one? It's #19 in a series of 20—stock up!
Ember—Part One (The Ember Series Book 1) by Deborah Bladon
Being rescued in the middle of a blind date by a gorgeous fireman is the last thing that Bridget Grant expects. When he throws all caution aside to defend her honor, she sees something that she has been craving for years. Inviting him back to her place can't hurt, can it?
Dane Beckett has been in a relationship for the past two years that has pulled the life from within him. Just as he breaks up with his girlfriend, another woman crosses his path. She's everything he never knew he wanted. She wants to take her time. He doesn't want to waste another minute. Neither can ignore the intense attraction that overwhelms them. Bridget is offered an opportunity that will change her life forever just as Dane shares details of his life before he met her. Can she have it all or will the burning ember of his past love pull them apart?
Revved up? Be sure to grab books two and three!
Rush by Lucia Jordan
Kendra is a bundle of nerves when she walks into the office of Sebastian Montoya. To say his reputation proceeds him is be a gross understatement. Immediately she sees that the larger than life architect has an even bigger ego. The mystery that surrounds him is hypnotizing. There is just something about him that draws her in. He oozes sexuality and his lilting Spanish accent makes her insides flutter. But as she learns, architecture isn't his only talent.
A hot and steamy night at work leads to far more than she could ever expect. But does Kendra have what it takes to deal with the pressures that come with her day job while allowing Sebastian to handle her at night?
Jouncing for more Jordan? This is the first in a series!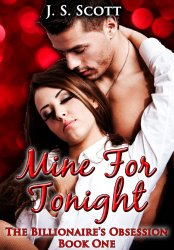 Mine For Tonight (The Billionaire's Obsession, Book One) by J.S. Scott
Down on her luck, nursing student and full-time waitress Kara Foster gets a massive blow to her already desperate financial situation that will surely find her living on the streets. Needing nothing less than a miracle to save her, Kara gets rescue from an unknown, unlikely and overwhelming source.
Billionaire Simon Hudson makes her an offer that is impossible to refuse, but terrifying to accept from a man that she's never met. Will the handsome, alpha billionaire really be a solution to her problems, or will he end up being a major complication and a danger to her emotional sanity?
Like this book?  Lucky for you there's two more in the series!
Bound (Bound and Freed, Book One) by Nikki Sex
John Taylor is a brilliant and sexy young man in need of BDSM training to curb his Dominant sexual tastes. But John is a deeply damaged soul, bound to his tormented past.
Submissive Kelly Flynn has a huge crush on John Taylor, and is restrained by troubling ties of her own. She is suffering from the "Fatal Female Flaw" when ordinarily sensible women fall madly in love with an unattainable man who can't, or won't love them back. There's no possible way Kelly can ever break through John's defenses to the tortured soul beneath… or can she?
Need more?  Bound is book one of a 3-book boxed set.
So grab your favorite Pinot, kick off your flip flops and sink into your hammock with these five feisty finds. Don't forget the sunblock, it's gonna get hot!