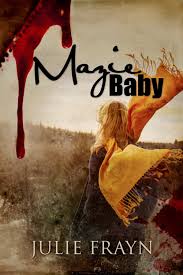 Mazie Baby was the winner in the Literary Fiction category of the 2015 IndieReader Discovery Awards, where undiscovered talent meets people with the power to make a difference.
Following find an interview with author Julie Frayn.
What is the name of the book and when was it published?
Mazie Baby, May 21, 2014
What's the book's first line?
"Cool pavement kissed the soles of Mazie Reynolds' bare feet."
What's the book about? Give us the "pitch".
Mazie Reynolds must use her wit and moxie to out-manipulate the monster she calls husband, to save herself and her daughter.
What inspired you to write the book? A particular person? An event?
This book started from the flash of a picture in my head – a pair of bloody scissors stabbed into a man's bare thigh.
What's the most distinctive thing about the main character? Who-real or fictional-would you say the character reminds you of?
Her inner strength that took a while for her to discover. Mazie reminds me of a woman I knew. Sadly, that woman lost her life to her abuser. That was the catalyst for turning the tables in the novel.
What's the main reason someone should really read this book?
It is honest and unflinching in its portrayal of living with, and freeing yourself from, abuse. Many women who've been in Mazie's shoes identify with her, and have contacted me to say thanks for writing the book.
https://indiereader.com/wp-content/uploads/2015/06/mazie.jpeg
275
183
Guest Author
https://indiereader.com/wp-content/uploads/2016/12/ir-logo-2017.png
Guest Author
2015-06-18 09:32:20
2015-07-22 16:32:50
Julie Frayn on Her Book "Mazie Baby"