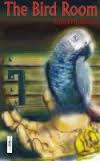 Verdict: THE BIRD ROOM offers hints at unimaginable terrors; and the stories will leave you wondering, and wanting more.
THE BIRD ROOM is an eclectic gathering of short stories, some of which fit neatly into the traditional horror genre, though most of them are completely and wholly psychological horror stories. Several of the stories will leave you shivering with terror, several of them will leave you scratching your head in bewilderment, but every one of them will leave you wanting more.
Author Chad Hofmann leads us into THE BIRD ROOM with an introduction that clearly explains to his readers the purpose of the compilation. He explains that the collected stories will show how his writing style and ability have evolved over time, and that is exactly the goal that the collection of stories achieves.
Hofmann's innate creative talent is evident from the very first story, "The Bird Room", which is a tale of two friends, and the plunge one of them took into madness, destroying them both. This story has a tremendous foundation, and the potential to be a great story, but Hofmann needs to give the story a lot more supporting detail, character development, and better dialogue, with more emotion and tone. Most of the stories are similar in that regard; formed upon terrific ideas, but begging to be better molded, revised, and refined.
While Hofmann's imaginative flair for the morbid and frightening is clear throughout THE BIRD ROOM, most of the stories seem to be little more than first drafts. Luckily, for Hofmann, he seems to have a good grasp of basic proofing, so there are no glaring misspellings or grammar atrocities to detract from the story ideas themselves.  However, many of the stories could use a good going over by a patient and devoted content editor.
For example, in "The Spiders", a story of a family with secrets, awful, awful secrets – Hofmann begins with this line, "Little Benjamin woke up and flew out of bed with anticipation. He put his favorite zip-up footie pajamas on, the ones with the trains on them, and took a long, deep breath."  – The reader might find that his or her mind is just simply caught on that odd phrase through the rest of the story, wondering why Little Benjamin didn't sleep in his pajamas, and change out of them when he woke up, only to find that this tiny detail has nothing to do with the story.
THE BIRD ROOM offers hints at unimaginable terrors; and the stories will leave you wondering, and wanting more.
Reviewed by Catherine Grainger for IndieReader
https://indiereader.com/wp-content/uploads/2014/08/Unknown-31.jpeg
161
100
IR Staff
https://indiereader.com/wp-content/uploads/2016/12/ir-logo-2017.png
IR Staff
2014-08-11 08:45:35
2014-08-11 08:45:35
The Bird Room