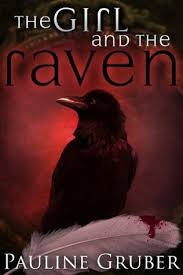 Verdict: As the starting book to a series, THE GIRL AND THE RAVEN has substantial potential.
When Lucy's heroin-addict mother died, she came into her true inheritance – strange powers, stranger friends, and some very dangerous enemies.
Lucy Walker has lived her life on the edge of desperation, in a trailer with her alcoholic and drug-abusing mother. But when her mother dies, and she moves to Chicago to live with her affectionate and good-hearted uncles, she realizes that there are things scarier than poverty and neglect. Her witch grandmother has left her powers – if she can rescue her raven familiar Lola from a demon, who has his own reasons for being interested in Lucy. She finds love with a handsome guy utterly dedicated to her protection – and also a dangerous attraction to another guy who might pay the ultimate price for his father's sins. And she learns family secrets that threaten her very identity. Can she work through the tangle and figure out the whole story behind who she is before it's too late?
This is a creepy but charming tale, with new developments around every corner. The parallel stories – the surface story of Lucy's adjustment to her new life, and the deeper story of what's actually going on beneath the "safe" little high school world – are deftly intertwined, and the author manages to make the paranormal events seem almost logical. Marcus and Dylan, the love interests, manage to be sexy in completely different but equally likeable ways – it's not at all clear who Lucy will choose in the end. Jude Morgan, the demon who may or may not be the villain, is chilling and disturbingly charismatic.
The story ends on something of an unclear note, though. The book feels more like the setup for a larger story than a self-contained tale, and there is plenty of room for a sequel. There are aspects of Lucy's relationship with Marcus that feel forced, and there is a frustrating lack of communication between them. Some of the sentences can be a bit choppy, though these may be no more than an artifact of Lucy's speech patterns, and there are occasional typos, but these are minor quibbles.
As the starting book to a series, THE GIRL AND THE RAVEN has substantial potential.
Reviewed by Catherine Langrehr for IndieReader
https://indiereader.com/wp-content/uploads/2014/03/Unknown9.jpeg
275
183
IR Staff
https://indiereader.com/wp-content/uploads/2016/12/ir-logo-2017.png
IR Staff
2014-03-09 03:06:08
2015-08-06 10:37:44
The Girl And The Raven