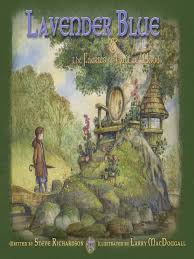 by Steve R. Richardson and Larry MacDougall
Verdict: More mature readers (those 13+) will be captivated by this narrative of good versus evil and life versus death.
Lavender Blue's best friend, Rose, becomes very ill and the faerie messenger of death, Banshee, is about to visit. Lavender Blue prays for Rose's recovery and a falling star bodes good tidings. Then Lavender Blue's adventures begin: The heroine embarks on a mythical journey, where she encounters dark woods and scary creatures, such as Pookas, gnomes and goblins, in the race to get to Rose before Banshee does. Numerous challenges test Lavender Blue's courage and resolve, and her ability to succeed is put to the test time and again. Fortunately, Lavender Blue receives some help as the faeries of Galtee Wood help her in her quest to rescue Rose.
LAVENDER BLUE AND THE FAERIES OF GALTEE WOOD's illustrations are superb, especially when they capture the scary creatures in the faerie realm. While this title is meant to be read year-round, children in the recommended reader age group might enjoy this story a bit more around Halloween because of the narrative's spooky flavor.
To the author's credit, is a Pinnacle Achievement Award winner. Yet this beautifully-illustrated story falls somewhat short of the excellence it strives for. Though the author has good intentions and supplies plenty of adventure and moral messages, the story tends to get lost in the detail, becoming a bit too long and convoluted for many children ages 9-13, which is the recommended age group for this title. More mature readers, however, will be captivated by this narrative of good versus evil and life versus death.
Reviewed by Robin Carr for IndieReader.
https://indiereader.com/wp-content/uploads/2014/01/Unknown29.jpeg
259
194
IR Staff
https://indiereader.com/wp-content/uploads/2016/12/ir-logo-2017.png
IR Staff
2014-01-27 02:54:15
2015-08-05 17:54:03
Lavender Blue and the Faeries of Galtee Wood