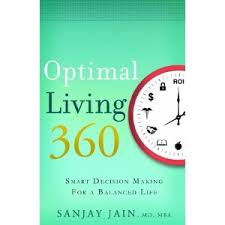 Verdict: OPTIMAL LIVING 360 offers an extensive and encouraging action plan that puts you in charge of balancing your life and prospering.
Drawing from, and blending together his MBA and experience as a medical doctor, author, Dr. Sanjay Jain has put together a concise, yet comprehensive balanced life program.
Using a structure called the Core Assets that can be remembered with a simple acronym: ASPIRE, Jain focused on the following aspects of one's life: Assets, Safety, Physical, Intellectual, Relationships, Economic and Spiritual.
Though interconnected on many levels, the chapters tackle each asset in more detail. The chapter on Assets brings a no-nonsense business approach to life, puts the reader in the position of CEO of their own life required to apply strategic thinking, analysis and balancing of various factors in order to make decisions that will positively affect their life. Keeping in the theme of business strategy and mindset, Jain instructs readers on how to analyze the Return on Investment (ROI) and pinpoint the best strategy for each of the aspects of the life plan. The Safety asset involves prioritizing physical health and provides a long list of elements that could affect our safety at home, work, and in the environment. The Intellectual asset includes preserving and improving mental state, which Jain also states requires resting our brain and minds, too. The chapter on relationship explains how healthy relationships are vital to a human being and offers advice on maintaining healthy relationships – as well as what not to do when there is a conflict. Economic health revolves around keeping your financial state strong, and includes some advice well suited for today's economy, such as maintaining perspective and good moral when times are tough, and learning to take care of yourself without blowing the bank account, and advice if you are out of work. Finally, the chapter on the Spiritual asset promotes the value of hope, and the positive aspects that guidance and a sense of purpose bring to a person. Jain is careful here not to confuse religion with spirituality, but rather offer an open and positive discourse on a healthy spiritual outlook.
While many of the points and information are not necessary new, Jain offers a unique way to take charge of our lives. Jain's writing is clear and reassuring, while the charts showing statistics, as well as the summaries for each chapter are concisely organized and informative.  Jain accommodates a diverse population of lifestyles, cultures, ailments and beliefs in his program, for example, offering various exercises such as Pilates, Swiss ball, plyometrics and tai chi to appeal to diverse preferences and health issues.
OPTIMAL LIVING 360 offers an extensive and encouraging action plan that puts you in charge of balancing your life and prospering.
Reviewed by Maya Fleischmann for IndieReader.com
https://indiereader.com/wp-content/uploads/2013/10/Unknown16.jpeg
225
225
IR Staff
https://indiereader.com/wp-content/uploads/2016/12/ir-logo-2017.png
IR Staff
2013-10-27 15:57:10
2015-12-01 15:34:16
Optimal Living 360