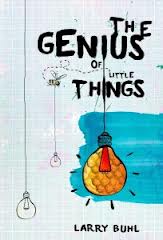 Verdict:
THE GENIUS OF LITTLE THINGS is a moving yet humorous story of a lovable, emotionally stunted, 16 year-old, science geek caught in the Foster-Go-Round system AKA Nevada Department of Child and Family Services.
Tyler is starting his senior year in a new high school and a new foster home, his seventh placement in four years.  Life for Tyler has never been stable even before he entered foster care.  From his earliest memory, Tyler always took care of his irresponsible birth mother.  When she died, he learned he could count on no one but himself.  In his world, science makes sense, people not so much.  All he wants is to NOT get thrown out of this latest foster home before he gets accepted into the college of his dreams, Caltech.  His new foster parents confuse him with their attempts to "parent" and connect with him.  Curfews, family dinners, even birthday celebrations are baffling to Tyler.  He does spend a great deal of time fretting over less personal issues such as the demise of honeybees and the long-term implications to the human food chain.
Although Tyler is unprepared to build relationships with people, he is single minded in his determination to get into Caltech.  He must earn money for tuition and prove to Caltech admissions that he is worthy of acceptance.   The result is a series of crazy attempts to pad his college application including a bloodless coup of the German Club and an unintentional run for student government.  Tyler inadvertently becomes the spokes person for the rights of the student body and a troublemaker in the eyes of his high school principal.
The book takes a more serious turn when Tyler makes questionable choices while juggling school and a series of jobs. The results are devastating but Tyler's lack of self-recrimination seems oddly out of character.  More details about this as well as his developing relationship with his foster parents would have added greater depth to the storyline.
THE GENIUS OF LITTLE THINGS is a quirky gem of a book that will appeal to adults as well as teens.  An emotionally stunted, Tyler will make you laugh while he breaks your heart as he tries to decipher the intentions of his peers, employers and new foster parents.
Reviewed by Maureen Fajt for IndieReader
https://indiereader.com/wp-content/uploads/2013/09/Unknown6.jpeg
240
163
IR Staff
https://indiereader.com/wp-content/uploads/2016/12/ir-logo-2017.png
IR Staff
2013-09-15 14:34:47
2015-12-01 16:39:34
The Genius Of Little Things