Darryl Cunningham is a writer, cartoonist, and creator of the hit comic series "Science Tales". In the series he debunks popular myths and exposes crazy theories for what they are using his writing and creative cartooning. I recently spoke to this jack of all trades about his upcoming projects and how he broke into the comic book industry.

IR: Tell us about your upcoming project. Where did you come up with that story?
DC:  I'm working on a book about the 2008 financial crash. The lead up to it and the aftermath. It will look at how the market in derivatives, and especially credit swop derivatives, caused the crash. It will explain, clearly, and in some depth, what these derivatives are, how and why they were developed, and how bad debt in the US housing market brought down the system.

It will look at the failure of austerity measures to solve the UK's economic problems and how these measures are being used to roll back the welfare state.
It will look at how inequality in a society is bad for all in a population, including the very rich.
It will look at how the philosophy of libertarians, such as Ayn Rand, has captured the imaginations of business people and politicians on the political Right, especially in the United States, and how this philosophy has been put into policy. The book will include a 66 page graphic biography of Rand (currently being serialised on the ActivateComix website.

And finally, it will look at the current research into the psychological and neurobiological differences between liberals and conservatives. It will look at the psychological strengths and weaknesses of each of these political positions, why human beings have evolved this apparent split, and why this difference, when in balance, is useful to us as a species.
Many books have been written on these subjects individually in recent years, but none have attempted to bring all these themes together in a popular and clear manner. This is what I'll be attempting to do. I've a passionate belief that words combined with images can have a powerful impact and one that is quite different in quality from either a novel or film. Reading a comic is a very immediate experience and one that works well as a way of presenting lots of information in a short space of time.
Austerity, and how Western countries have dealt with the aftermath of the financial crash, is I think, the great theme of our time. It has defined the era we live in as much as the cold war defined the second half of the 20th century, affecting all facets of our lives. Having previously written two graphic reportage books on complex issues, and learned through doing this how to take difficult subjects and boil them down into an entertaining and engaging narrative, I think I've developed the skills with which to successfully tackle this huge subject.
The book, which will probably be called "Supercrash", will be out from Myriad Editions next year.
IR: How have you been able to fund your project/s?
DC: I do illustration work for clients, and I do casual work at a local care home with elderly people who suffer from dementia. I've just applied for an arts grant to help me finish the book.
IR: What have been your influences in creating comics and what made you want to do so in the first place?
DC: I've always drawn, ever since I was a boy. I wanted to write. I had these two skills. It seemed obvious to me that I should combine the two things I enjoyed doing the most. The comic strip medium is perfect for me.
I have a fine arts background and was influenced early on by the Flemish woodcut artist, Frans Masereel, who did entire novels composed of powerful wordless, black and white, full-page images. Other influences include cartoonists such as Eddie Campbell, Robert Crumb, in fact the whole indie/alternative comics movement has had a huge effect on me. Alan Moore really opened my eyes when I was younger. He really turned the comics medium inside out and showed the full potential of the form.
IR: What would you like people to take in when reading your comics?
DC: I hope my work comes across as truthful. I research the factual stuff in some depth. I'm often fueled by anger, especially when I see injustice. I did a short piece, which you can read on my blog, about the death of Ian Tomlinson. He was a newspaper seller who got caught up in the London G20 protests in 2009. Not involved in the demonstration at all, Tomlinson was a passer-by on his way home who was knocked to the ground by a policeman, Simon Harwood, and died of his injuries shortly after. Harwood was tried for manslaughter and acquitted. The Metropolitan police sacked him anyway. It turned out, after the trail, that Harwood had a long history of brutal behavior and had previous retired from the force, seemingly to avoid disciplinary action after he'd assaulted a man in an off-duty road rage incident. Civil charges brought by Tomlinson's relatives are still pending.
IR: How did you first break into comics?
DC: Inspired by British indie comics people like Eddie Campbell, Phil Elliott, and Ed Pinsent, I first self-published a few mini-comics in the late 80s. My work was sporadically published through the 90s, but I couldn't make a living out of it. I turned my back on comics for a while to work in healthcare and to train as a psychiatric nurse (which I didn't complete). Ultimately the urge to do something creative was too strong and I started drawing short comic strips, retelling some of my experiences working on the acute psychiatric wards. This led to a book being published, "Psychiatric Tales", from Blank Slate in 2010. A new and expanded edition is due out very soon, with a new cover, new intro, and two extra chapters.
IR: What other projects have you been working on and what kind of stuff would you like to do in comics?
DC: I've done a lot of serious work in recent years. It would be nice to do something light and throwaway. In the pipeline is an all-ages book called "Uncle Bob Adventures". This material has been finished for some time, but I'm hopeful it will finally see the light of day this year. If it's successful I'd love make it into a series. It's a book of tall tales told by a 150 year old man about his adventures from Victorian times up until the present day.
IR: What are you reading right now, any comics right now you are really into?
DC: I don't do a lot of comic reading. I've had to give myself a crash-course in finance in order to even start work on my current book project, and this has not left me with time for anything else. When I do read, it tends to be crime thrillers I pick up: Michael Connelly, James Lee Burke, and Christopher Fowler are favourites.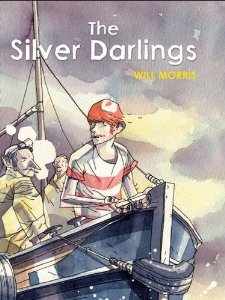 One recent graphic novel I enjoyed is "The Silver Darling" by Will Morris. Another is "Montague Terrace" by Gary and Warren Pleece. The book I'm most looking forward to is "Lighter Than My Shadow" by Katie Green. This last is a book about the author's experiences of anorexia. It's out in September.
IR: What are your plans for the future?
DC: Live, draw, then die. But all done in a cheery manner.
IR: What is your method of writing/creating how do you come up with your content?
DC: As I stated above, with the serious stuff, what gets me going is often anger. There's usually something I really want people to know about. So I research the subject until I feel I know it backwards and forwards, and can talk about it comfortably. I'll start writing text to go on the page, breaking the page down into panels. Then I'll work out what the images should be. I don't always illustrate directly what's in the text, but will attempt to create some kind of contrast or counterpoint to what's being stated. Sometimes you've no choice but to be quite literal in what being illustrated, but I try and avoid it if I can.
I'll have only a vague idea what the structure will be at the beginning, but I don't worry about it, as it somehow always seems to work out. That last part is a bit of a mystery to me, frankly. I really don't know how it works. I just know that it does.
IR: What is the most rewarding part of working in comics and the toughest part?
DC: Getting feedback from readers is the best part of the process. The worst is that financially it can be very difficult. Your troubles aren't over just because you've got a book deal. My books sell, but they don't sell in such huge volumes that I'm rolling in money. Putting further books out in print will eventually solve that problem, I think. But, of course, that takes time.
IR: Anything else you would like to add?
DC: I'm from Yorkshire. Have a nice day!