Doodles, buttons, and jet packs—we did a little wander through the Blurb Bookstore and turned up all sorts of creative diversions.
Dear Doodle by Shaylyn King
We see lots of creative, customized notebooks at Blurb, but this one caught our eye and kept it as we flipped through the pages. Filled with, you guessed it, doodles and musings, it's like a little walk around King's mind.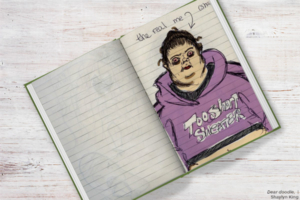 The author says she created the book to poke fun at herself and her life, and to keep her going. Like many notebooks created with Blurb, the pages are lined so there's plenty of room for notes and such, but King kept it pretty simple and let her wonderful doodles filled with dark humor do the talking. It's a great one-way conversation and we were happy to listen in.
Misc. 20: Jetpack Vacation by Rian Hughes
One of the many cool things about making a book is that it can serve whatever purpose you'd like. Show off your writing, your photography, your illustrations, or – as in the case of this book – your ephemera (you know, the papery flotsam and jetsam you've collected).
According to the author, this book is part of an "occasional series featuring unseen design experiments, photographic essays … themed ephemera …curated detritus." It just so happens that this author is pretty big in the design world so his detritus is very well curated, as can be seen in this book made up of vintage illustrated cards created for a Dutch biscuit company.
It's hard to say if the book has a story line, but, truth be told, it doesn't really matter –the illustrations are so rich and retro in an early "Speed Racer" kind of way that, before you're know it. you're time tripping on your own little story line.
The Little Blue Button by Isabel Pop
What happens when a little blue button gets beat up by his button mates and ends up off the jacket and onto the floor? So much.
This poor button encounters an overly efficient broom, a curious cat, imprisonment in a trash heap, bad weather, a greedy raccoon, and finally a loving community among some sunny yellow buttons. Got to love it. Cheers to Isabel Pop for creating a great picture book that even big kids will like.
**********************************************************************
To learn about creating your own picture book with Blurb, visit blurb.
https://indiereader.com/wp-content/uploads/2013/04/jetpack-21.jpg
400
600
IR Staff
https://indiereader.com/wp-content/uploads/2016/12/ir-logo-2017.png
IR Staff
2013-04-02 09:38:29
2015-07-13 16:26:37
At a Loss for Words? A Blurb Round-Up of Picture Books.