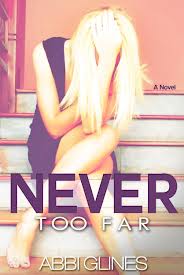 What is the name of the book and when was it published?  
Never Too Far, Feb 26, 2013
What's the book's first line? 
There was a knock at the door then just the small shuffle of feet.
What's the book about? Give us the "pitch".
Never Too Far is the sequel to Fallen Too Far. It picks up after the two main characters in Fallen Too Far have gone their separate ways.
Blaire, the heroine, is faced with a life changing problem and she has no where to go but back to where she's just run from. Rush, the hero, is the one person who can help her but the one person she can't trust. Finding a way to forgive and put all the lies behind them isn't easy.
What inspired you to write the book? A particular person? An event?
Fallen Too Far was inspired by the fact I wanted to write a "tougher" heroine. I didn't want her ready to fall into a man's arms to rescue her. I wanted someone who could defend herself and face life's punches with courage.
Also, I knew that if I didn't finished Rush and Blaire's story and give them a HEA my readers would hunt me down.
What's the most distinctive thing about the main character? Who-real or fictional-would you say the character reminds you of?
Never Too Far is told in two points of view. So there are two main characters. Rush's most distinctive thing is his tongue ring and his rock star's son persona. I don't know who he reminds me of. Blaire's most distinctive thing is the fact she carries a gun and knows how to use it. She also reminds me of the country singer Miranda Lambert.
What's the main reason someone should really read this book?
It's an emotional roller coaster ride. The drama, heartbreak, and journey to healing is all wrapped up in both books.
https://indiereader.com/wp-content/uploads/2013/03/never-too-far1.jpeg
275
184
IR Staff
https://indiereader.com/wp-content/uploads/2016/12/ir-logo-2017.png
IR Staff
2013-03-05 08:49:35
2013-03-05 08:51:05
Abbi Glines on "Never Too Far"