Bill, a dedicated young lawyer working at his family's prestigious New York firm, leaves everything he trained for to follow his dream and become a minister in rural Wyoming.
Jenny, his wife, is a stylist whose heart and soul are invested in fashion. She leaves the milieu and life she loves to join him. The certainty they share is that their destinies are linked forever.
Robert is a hardworking independent book publisher in Manhattan who has given up all personal life to build his struggling business. He is looking for one big hit novel to publish. Lillibet is a young Amish woman, living as though in the seventeenth century, caring for her widowed father and three young brothers on their family farm. In secret at night, by candlelight, she has written the novel that burns within her, and gets it into Robert's hands, wrapped in her hand-stitched apron. Destiny is at work as Lillibet and Robert test the boundaries of their extremely different lives in the name of love.
Master storyteller and #1 NY Times Bestseller Danielle Steel never fails to enthrall us with her carefully woven love stories. Love and fate are powerful, irresistible forces, as Steel proves to us here, in a book about courage, change, risk, and hope . . . and love that never dies. If you enjoyed Until the End of Time, check out these awesome indie recommendations.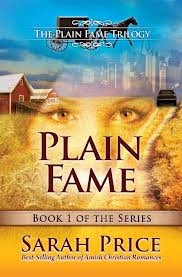 Plain Fame (The Amish of Lititz: The Plain Fame Trilogy) by Sarah Price
Enjoyed the idea of an Amish girl falling for someone like Robert? How about adding a Cuban rock star to the mix? Amanda Beiler is a young Amish woman traveling back to Pennsylvania from a visit in Ohio. Alejandro Diaz is a famous Cuban singer living the life in the limelight of international media. Their worlds collide on the streets of Manhattan, an accident that brings them together and, despite their efforts, will not let them be apart. What happens when that bridge is crossed between two very conflicting worlds and two extremely different cultures?
An Amish Christian Romance that will leave you breathless and wanting more. Sarah Price, bestselling author of Amish Christian Romances, brings her twenty-five years of experience living among the Amish and from growing up Mennonite to the pages of her novels and novellas, in order to present a truly authentic Amish experience just for her readers.
Forbidden (Southern Comfort) by Lisa Clark O'Neill and Sandra Clark
Special Agent Clay Copeland lives his job. As a behavioral specialist with the FBI's Investigative Support Unit, his days are spent traveling the country assisting other law enforcement agencies with their most disturbing and difficult cases. Clay excels at his work, maintaining an easygoing affability and sense of humor despite his frequently gruesome job. Until one case goes terribly wrong…
Shaken by the loss of a young child whose death he lays at his own feet, Clay seeks refuge in the sandy beaches and plentiful feminine distractions to be found along the South Carolina coast. And no female has ever distracted him quite as much as local innkeeper Tate Hennessey.
A woman with her own ghosts, Tate is a single mother to five-year-old Max. Against her better judgment, she finds herself drawn to the charming and handsome agent. When an outing to a traveling carnival ends with another family's tragedy, Tate and Clay are sucked into the resultant investigation into the abduction of a young teen. And neither of them can be prepared for what their chance encounter eventually uncovers. Sounds like another success in the controversial romance department.
Waiting for You by Shey Stahl
Bailey Gray is tired of her perfectly planned life. Everything about her life has been organized and lived out to the expectations set of her parents. She is the class valedictorian, has perfect grades, the perfect friends, a perfect boyfriend, basically perfect life…or so everyone thought. That's when she realizes the path planned isn't always the path chosen. On graduation day she makes a decision. One that changes everything she thought she knew about her intended future. On a whim, she runs away with the town rebel, Dylan Wade, in search of the unknown. Dylan Wade isn't looking to run away from anything. He knows what he wants as he's been waiting on it for years. On a journey to find the unknown, they discover a friendship they once knew along the open highway and have not a care in the world. Between the yellow and white lines of the heated summer asphalt, a spark draws them together as Dylan's past and Bailey future try to ripe them apart.
Could it be that Dylan and his GTO are exactly what her perfectly planned life needs?
Room 732 by Merle R. Saferstein
Can't get enough of books that have more than just one story? Check out this eclectic short story collection. Have you ever walked into a hotel room and wondered who stayed there through the years and what took place before you entered? Set against the backdrop of Florida's Atlantic Ocean, Room 732 reflects the hotel's transformation from an elegant getaway during the '20s and '30s to a U. S. Navy training and indoctrination center during World War II. After the war, the upscale hotel re-opened. Then, in 1971, Florida Bible College moved in, followed by timeshares and condos. More recently, the ever-changing edifice was restored to the vacation resort it was originally intended to be.
Woven through intimate letters, journal entries, and private conversations, each story explores the threads of connection, communication, and life experiences and echoes the culture of the times. Breathing life into the walls of Room 732, the characters experience a range of emotions as they live with the effects of war, the joy of discovering faith, the death of a loved one, the challenges of marriage, and the intimacy in relationships.
The Good Lawyer: A Novel by Thomas Benigno
This #1 Bestselling Legal Thriller on Amazon is also on the IR top 10 list this week. Inspired by a true story, a young, ambitious lawyer is eager to prove he is better than the father who abandoned him and worthy of the devoted mother who raised him beyond the siren call of the mobster dominated family he grew up in.
Working as a Bronx Legal Aid Attorney he learns how to twist the system, how to become an unbeatable defense lawyer, and he his peacock proud of his perfect record-not a single conviction. But it's 1982. The Spiderman rapist is on the loose and New York City is a city in fear. When an outraged rape victim commits suicide right before his eyes, searching for absolution, he grabs the headline case of a teacher's aide accused of molesting three students.
Armed with a firm belief in his client's innocence, he knocks the pegs out from under the prosecution's case. When one of the children turns up dead, he discovers that his client may be strangely connected to the Spiderman. Digging deeper, horrifying revelations about his family's past collide with the true identity of the sadistic sociopath behind the Spiderman's rampage. In the process, this good lawyer comes face-to-face with his greatest conflict and deepest fear: to win, really win-save the city and even the woman he loves-must he sacrifice every principle he believes in and embrace his family's mafia past to become judge, jury, and executioner?
Four Weddings and A Fiasco (Boxed Set) by Lucy Kevin
Boxed set of 3 books in Lucy Kevin's bestselling Four Weddings and a Fiasco series. Now #4 of the List Where Indies Count! Fans of romance novels by Debbie Macomber, Janet Evanovich and Susan Mallory will enjoy these fun, sweet contemporary romances.
THE WEDDING GIFT (Book 1): After Julie Delgado's restaurant closes, she temporarily takes over the catering position at the Rose Chalet, a full-service San Francisco wedding venue. She plans to dazzle the bride and groom so the Chalet's owner will keep her around, but fate has other plans for her when the bride's brother shows up for the first food tasting. Andrew Kyle is not only the Cuisine Channel's Edgy Eats host and chef, but his recent review of Julie's restaurant was the final nail in its coffin. Once he meets Julie at the Rose Chalet, he's certain she's playing it safe. And he wants nothing more than to be the one to break her guarded passions loose. But despite the undeniable sparks between Julie and Andrew–and the fact that he seems to believe in her when no one else does–can she afford to be taking risks with her cooking, with her career…or with her heart?
THE WEDDING DANCE (Book 2): Phoebe Davis, the Rose Chalet's florist, knows nothing is permanent—not the floral arrangements she creates, not the weddings she helps produce, and certainly not her parents' marriage which ended in a bitter divorce. Certain that all relationships come with strings attached, she has always worked to live for the moment and not to have any ties…ever. Risking big is how Patrick left the family landscaping business, was the first Knight to graduate from college, and became an in demand architect. In California for a short while to work on a new home, from the very first moment he holds Phoebe in his arms, he knows he's found his perfect match in the adventurous, alluring and intelligent florist. But will Phoebe dare let herself risk her heart on the most fragile and precious bloom of all? Especially when one dance with Patrick Knight is all it takes for her to start rethinking everything she's ever believed to be true about love…
THE WEDDING SONG (Book 3): Tyce Smith, the DJ and band leader for the top wedding venue in San Francisco hasn't written a new song in five years. Not since the fateful night he kissed the woman of his dreams, and she left him with nothing but a first name and no way to find her. When fate steps in a second time, he can't make the mistake of letting her run again…even if the hurdles in the way of true love seem bigger than ever. After Whitney Banning comes face to face with the man she's never forgotten and knows she never will—how is she supposed to stop herself from dreaming again? Especially when the desires she buried so long ago are sparked back to life by one dance, one smile, one more forbidden kiss…and a brand new song about a love that will last forever.
If you enjoyed Until the End of Time, take a peek at these eight excellent indie enticers. You will not be disappointed. Make sure to stock up on some Kleenex, a truffle or two and, of course, bring an open heart directly to your comfiest reading chair.