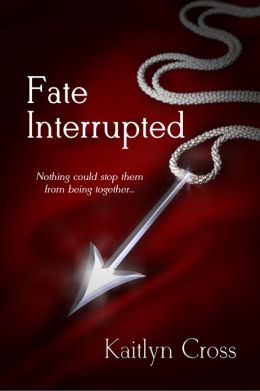 Verdict: FATE INTERRUPTED is a tantalizing read that is interrupted only by the bothersome (yet effective) cliffhanger that leaves you wanting more.
Handsome and successful banker Dean Jacobs isn't looking for a wife. The 34-year-old bachelor is enjoying the many women willing to keep him company without the promise of something permanent. Then, he sees 34-year-old beauty, Evy Burnett from Des Moines, Iowa who is helping her sister set up her bakery and Dean finds himself a changed man. No longer interested in checking out women with his close friends, he commits to the idea of settling down with Evy and casting off his old ways and past playthings. That is until Megan, his last fling, shows up on his doorstep with a little surprise.
FATE INTERRUPTED offers a smooth narrative with a tempting blend of appealing characters, sexual tension and lascivious love scenes. Dean, the male protagonist, enjoys his freedom with women, but is no cad. Even though he reconsiders his choice to bring the vocal and dirty-talking Megan home with him, he maintains a gentlemanly quality with her even when his  (ahem) transaction is done. His interactions with his close friends show that although his friends exhibit certain stereotypical elements of male behavior attributed to single men or lustful men chained down by marriage, Dean possesses a very down-to-earth masculine quality that makes him so appealing to women. This unassuming trait also makes Dean a very palpable protagonist.
Evy is also credible in her normalness and sweetness. As with Dean's interaction with his friends, Evy's relationship with her sister and brother-in-law effectively adds dimension to her character, revealing her nurturing, independent and positive personality. Her reluctance to get involved after a previous serious relationship hints at her vulnerability without it becoming exaggerated and dominating the plot. The wide range of secondary characters is also well developed, with each character deftly serving their purpose in moving the plot along. Dean's best friend Shaun, for example, reveals his desperate attempts to live vicariously through his unmarried friends' exploits, while Clayton Crawford's controlling personality adds tension to the plot with behavior more befitting a mobster than a Mayor.
At times, cliché expressions or generalized descriptions sneak into Cross's effortless narrative: "He hadn't known Evy for long but the bond was there just the same. A bond he had never felt with another living soul his entire life." For the most part however; the sexual tension and frequency of Cross's love scenes keep the pace of the story moving along with appropriately scripted dialogue and choreography that takes on a humorous and tacky quality when describing the sex scenes between Dean and Megan; but a balanced blend of eroticism and sensuality for the intimate scenes between Evy and Dean.
FATE INTERRUPTED is a tantalizing read that is interrupted only by the bothersome (yet effective) cliffhanger that leaves you wanting more.
Reviewed by Maya Fleischmann for IndieReader
https://indiereader.com/wp-content/uploads/2013/02/fate.jpg
391
260
IR Staff
https://indiereader.com/wp-content/uploads/2016/12/ir-logo-2017.png
IR Staff
2013-02-10 14:23:49
2016-02-11 16:02:53
Fate Interrupted