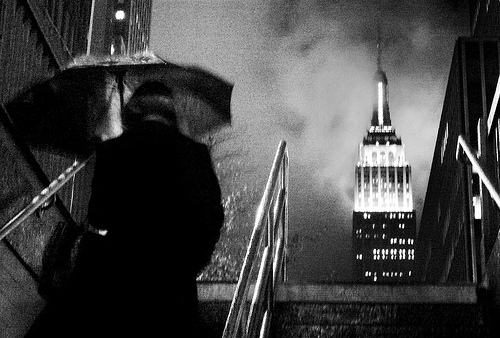 Like global warming and the antics of the Kardashian clan, indie books and their authors know no bounds. From the hills of Beverly to the city that never sleeps, IR's new "Geographically Indie" column will highlight a different location along with a sampling of indie books that can be found there.
First up?  New York City.
According to the 1948 black and white film of the same name, "There are eight million stories in the naked city", otherwise known as New York.  And true to it's indie cred, many of those New York stories are self-pubbed.
So, if you didn't get a chance to see the tree in Rockefeller Center this past holiday, or the ball drop in Times Square on New Year's Eve, check out these indie titles to get your New York fix.
Nostalgic for old New York?
Pick up Time Squares, and steal a look into one particular apartment building as Dennis Goode's characters reminisce about growing up.
The story takes on the friendship between two boys, but also the intimate, yet anonymous way people interact in the "squares" that surround us.
A
New York Night with Carmine McNally is Christopher Corrado's tale of a character who must start over and face reality.
McNally could be your neighbor – relate to him as he shares his thoughts on sports, relationships, work, and life in general, from his studio apartment in Manhattan.
Johnny Sanford's devotees might also live in studio apartments, but if they take his advice in Starving Artist's Guide to New York City, they can make the best of things.
It's a practical, funny guide to saving money while enjoying all the city has to offer. Need I mention that it's not just for starving artists anymore?
Look no further than Kim Gee's graphic novel, Between Boyfriends: A Year of Dating in New York City, if you want proof that an artist can have a Sex in the City lifestyle.
Gee shares her heartbreak in this amusing, sometimes embarrassing, autobiographical comic.
Just visiting? So are Anistasia and John in New York Heartbreak, the second book in the Blazing Charm series by Toni G. Sinns.
The school year has ended and June finds the new couple in Manhattan, where their summer vacation gets crazy with complications from Anistasia's past.
If you are a fan of young adult fiction, join these two on an adventure they'll never forget.
If romance and danger don't get your adrenaline rushing, perhaps Boroughs of the Dead: New York City Ghost Stories will.
In this pulp horror collection, Andrea Janes intertwines the supernatural with the authentic to bring us ten short stories – some historical, some modern, all chilling.
These are just six of the proverbial eight million stories. As you might expect, indie books set in New York are as diverse as the city itself.
Whatever your pleasure, wherever you are, take a chance and get lost in a New York story this winter.
https://indiereader.com/wp-content/uploads/2013/01/new-york-indies.jpg
338
500
Guest Author
https://indiereader.com/wp-content/uploads/2016/12/ir-logo-2017.png
Guest Author
2013-01-25 09:28:05
2013-01-28 10:11:33
The "New York" State of Indies